Shannon Methodist
History of Shannon
Methodist is here. (pdf)

Collins & Collins
WESTERN LIVE STOCK - HIGH PRICES.
-------
MAYSLICK, Ky., Sep. 14. Mr. Horace Greeley - Dear Sir : At a public sale held in this neighborhood, Sept. 7, two black boys, belonging to Benj. Ball's estate, sold one for $850, and the other for $640 - nineteen and sixteen years old. The one sixteen years old sold for $8 per lb. He weighed eighty pounds net: $80 x $7 - $640. Yours, &c., Didimus Jones" The North Star, October 3, 1850

Mayslick's Model Consolidated School, here.


Mayslick Conservation Club, 1949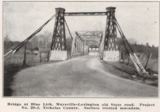 Yeah, Yeah, it's Nicholas County . . . 1929.
We thought if you're looking at Mays Lick, you'd like it.

For the record, we have no idea whether it's "May's Lick" (possessive); "Mays Lick,"
(two words, not possessive); or "Mayslick," (one word). It varies on who's writing it,
what the context is, and the year in which they were writing it. We generally follow the
usage of whatever we're quoting.