Boone County, 1899
Boone County, 1935
red lines are roads,
black lines are railroads
Boone County
from a 1940 magisterial
district map

Here's a complete set of 7.5 minute topographical maps of Boone County. Except for Lawrencburg, they are all from 1950-1953, as indicated. Make sure you're pdf viewer is set to 100% magnification to see them at their best.
W. North Bend (1954)
E. North Bend (1953)
Aurora (1953)
Lawrenceburg
Burlington (1951)
Covington
sliver (1953)
Rising Sun (1951)
Union (1950)
Independence (1950)
Patriot (1951)
Verona (1950)
Walton (1950)

A 1923 Boone County
Map, before I-75, before
US 42, and before
the airport.
Topographic Map
of northeastern
Boone County
from c. 1912
Robert Rennick drew this map of the locations, over time, of many of the various Boone County post offices
This map from the 1914 Statistical Atlas of the US and identifies the absolute center
of the US population in Boone County, Kentucky in 1880. The exact spot is near an
airport viewing area near the south end of Mineola Pike. There's an historical marker there.
These detailed maps (pdf's) of Walton from 1921 are Sanborn Fire Maps, originally created to assist insurance companies assess risk for underwriting fire insurance, hence "fire maps." These should eventually be available, in color, from the Library of Congress' site for Sanborns. There are Walton maps for 1921 and 1927, but to our knowledge, only Walton was mapped in Boone County.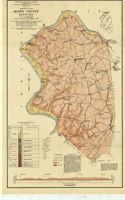 1931 Boone County Map
(which shows a lot of one-room schools)