Frieburg and Workum's Boone County Distillery

The Distillery sold for $500,000 in 1899. Story here.

The Courier-Journal noted (April 25, 1909) that if prohibition should happen, Petersburg's Boone County Distillery would close, eliminating 58 jobs, and an annual payroll of $34,250. They would not buy 186,000 bushels of grain from farmers, and not pay $2,550 in state and local tax revenue.
Distillery, in the Flood of 1907
Distillery map, 1910

Note the number of cattle sheds. If you're in the distillery business, you process a lot of corn. And what do you do with all of that corn after distilling. Well, you could use it as an already paid for feed for cattle...
Distillery Groups
image on right is 1903; identifications are here.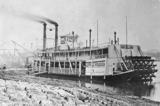 The Levi J. Workum, a.k.a. The Whiskey Boat
Seen docked here at Cincinnati, the Levi J. Workum was used to regularly
transport whiskey from Petersburg to Cincinnati. Note the barrels on the landing.


The distillery's owners, Frieberg & Workum, issued an anniversary booklet of their company in 1904.
Read it here.
The following is the tax paid by distillers in the Sixth (Covington) District of Kentucky during the month of September, 1876.
from The Ticket, a Covington Newspaper, Oct. 12, 1876.

Boone County Distilling Co., Petersburg
$ 59,848.20
G. W. Robson, Jr., & Co., Finchtown
$ 45,795.60
Dorsel & Wulftange, Covington
$ 37,963.80
Willow Run Distilling Co., Covington
$ 36,323.10
Andrew W. Darling, Carrollton
$ 6,557.40
C. B. Cook & Co., Cynthiana
$ 3,801.60
Kenton Distilling Co., Covington
$ 3,137.40
Samuel Fearn, Jr. Milton
$ 1,590.30
James H. Gray, Cynthiana
$ 195.30
$195,212.70

Details about the Petersburg Distillery are at this site.
Fire at the distillery, 1884.

"The plant of the Boone County Distilling Company, at Petersburg, the largest distillery in the Sixth Kentucky District, will soon be a thing of the past. The plant, which is now owned by the Trust, will be dismantled and further operations will cease. Including the cattle pens, the plant covers fourteen acres of ground. There are now some 30,000 barrels of whiskey in storage, which is being taken out at a rate of 300 barrels a week. Thomas H. Matthews, who has been superintendent of the place for years, will be sent to New York, where he will take charge of the large distribution houses."

Warsaw Independent,

May 24, 1902

The distillery stopped distilling in 1910, but left several warehouses filled with aging whiskey. As the stock depleted and was sold, the warehouse bricks were used in Petersburg and other towns. The stock of whiskey was gone by 1918.
"Brick of the Boone County Distillery at Petersburg, Ky., is being used to build a church in that city, according to dispatches received in Covington.

"The Distillery is being razed by George Marksberry of Florence, Ky., who is hauling much of the material to Erlanger in automobile trucks from which point it is shipped to Paris, Ky., to the purchaser, Clarence LeBus.
"Some of the brick of the distillery also was used in the erection of the Odd Fellows' Temple and high school at St. [sic] Petersburg." from the Courier-Journal, May 30,1920