Taking tobacco to market,
January, 1918
The Frozen Ohio River,
January 8, 1918
The Frozen Ohio River,
January 19, 1918
Chilo - Bradford Ferry
(We've also seen it identified
as the Ripley Ferry)

Succession of boats on Ohio,
taken from Chilo, Ohio, 1908

Augusta, and steam barge
from Ohio Side, 1906
Swimming in the river every day. Postmarked Augusta, 1912
Steamer Henry A. Jones burns near Augusta in 1858.
Ohio River stage at two feet in 1827.
The Ice of 1934 at Dam 34.
That's Chilo, Ohio, (top)
near Bradford, Ky
from Chilo,
looking toward Bradford


from a Facebook post by Jim Robb
Lock and Dam #34

There's a small Ohio River Museum in Chilo at the site of the old dam; their site is here.
Meldahl Locks and Dam

Historic Flood Levels at
Dam #34/Meldahl
Year
Height
1937
73
1884
65
1913
64
1945
63
1883
61
1964
61
1907
59
1948
59
1997
59
1942
56

Meldahl Construction, 1964

Meldahl In Operation, 1968

Captain Anthony Meldahl
A short biography
of Meldahl is here.

Captain Anthony Meldahl
Locks & Dam

More info on the old and new Ohio River Locks and Dams is here.
Captain Anthony Meldahl Locks & Dam, in various stages of construction

"Floating castles of sin that are traveling down the Ohio, stopping at the river towns to steal the morals of deacons and elders, have been solemnly warned to paddle past Augusta or prepare to suffer the laws uncertain penalties." Covington's The Ticket, October 17, 1876
Remember when the Ohio River wasn't a river, but a creek, starting at about Manchester, Ohio? No? That's because you were born after the last glacier left the area. Read all about it, here.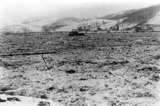 The ice, in the winter of 1917-18 was brutal stuff. This is in January of 1918.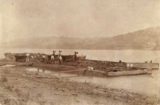 Reportedly at Augusta, more or less at the turn of the century.

Tobacco Wars of 1908 remind this old-timer about guarding the river in the Civil War.

Augusta - Spirituous and malt liquors are not sold in this city or in Bracken county, except by written prescription of a regular practicing physician, since the Local Option Law went into effect. Perhaps a sicker set of people are not to be found on terra firma. Doctors are sought after and prescriptions are begged for. An Ohioan, living directly across from the river from Augusta has established a drinking house for the special benefit of those who will have liquor, and the result is that the ferryman is busy from early dawn until the dewey eve. Crossing and re-crossing the hundreds of thirsty pedestrians with their little brown jugs, filled with sparkling shamrock." From Covington's Daily Commonwealth, May 2, 1879.