Campbell County Hill Farm, a painting by Harlan Hubbard
Very unusual dual tollgate on Licking Pike

The Hawthorne Post Office.
A map showing Hawthorne.
From a Facebook post by Bonnie Smith Kelley, with her great-grandparents, Oliver and Emma Wagner

These are the same building. It was at the intersection of Tollgate Road and Licking Pike, looking south. Now you know why it's called Turnpike Road. A grocery / tavern occupied the building after roads were "freed." It's rumored to be the site of the first car crash in Campbell County.

Probably in 1929, Campbell County Judge William C. Buten, who
was running for re-election, distributed a set of 16 postcards in a folder, below,
designed to show, pictorially, the accomplishments of his prior
term. While the original is one piece, you can click on individual images to get
larger images.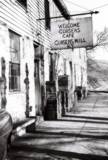 Gubser's Mill Cafe
from a Facebook post by Jeffrey Weimer
Gubser's Mill is named after a Swiss native, Jacob Gubser, who operated the mill in the mid 1800's. It once claimed a mill, a wagon shop, a blacksmith, a shoe shop, a general store, a post office, and a lawyer. The first log church in Campbell County was erected in 1853 at the present site of Sts. Peter and Paul.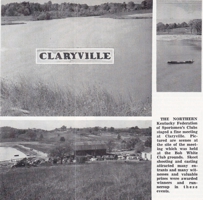 Skeet shooting in Claryville
Campbell County Patrolman Richard Gegan
From a Facebook post by Candace Wuest, of her grandfather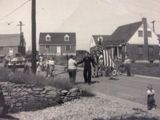 Crestview, a.k.a., Vet Village
From a Facebook post by Joyce Bricking Leopold
Crestview was founded as "Vet City," because the Vet Village Home Builders Association developed it to build houses for returning WWII vets. The area was incorporated in 1947, mostly to keep from being annexed by Cold Spring. History of Crestview is here.
"Lick Branch. This is a little place, two and one half miles west of the Ohio River, three east of Alexandria. We have two blacksmith shops, one owned by John Miller, the plow maker, the other by George McKibben, also, a cozy little store fitted up by George and Jim Taylor. It is something we need in our neighborhood. They propose to accommodate the people with all kinds of groceries and dry goods. People ought to accommodate them by buying from them and as they will sell cheap. We need a post office at this place." from the Newport Local, May 23, 1878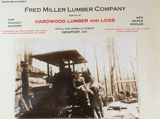 Frank Miller sold lumber on Isabella in Newport, from a
sawmill on Miller Road in Claryville.
from a Facebook post by Janet Hofstetter Miller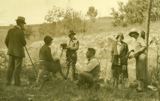 "Pond Creek Road, Ky off the Licking Pike Oct. 24, 1931"
Cryer Road
From a Facebook post by Evan McMillian
Thanks to Dave Remley for these. He says they're taken somewhere in Campbell County, c. WWI.
The Ranch House, 1954
US 27, 17 Miles South of Cincinnati
Ultra Modern - Air Conditioned
Electric - Gas heat - Television - Tasty Food
Across from what is now the entrance
to the A. J. Jolly Golf Course.
Valley View Motel
Free Fishing for Guests
20 Miles south of Cincinnati on US 27.
The 7 Mile House, on Licking Pike, run by the Kennewec family
Thanks to Ken Chambers for these.
Around 1920, the Kentucky Highway Department published some pictures of some
of their modern roads. They were, however, a little vague on exact location.
That's "State Aid 19a" on the right; 19C on the left.
("Buck" Siebert tells us "The photo on the right identified as 19C is, I believe a view
north on Licking Pike at the crest of the hill between Aspen Grove and Losey Road." Thanks, Buck.
The Aspen Grove Male and Female Seminary, here.

A stock company was formed in 1860 to build the Alexandria and Tibbates Cross Roads Turnpike. We don't know if the venture came to fruition or not. Not clear on where Tibbates Cross Roads is, either.
Wm. R. (Rus) Stevens writes about the Highways to Beech Grove, here.

(pdf)

W. T. Clary detects earthquake in Claryville, here.
Something called the Beech Grove Sunday School Union was established in 1880.
John's Hill man discovers a fortune, here.
Murder at Four Mile in 1867.
Woodlawn became incorporated as a city on October 17, 1922 because neither Dayton nor Bellevue would agree to annex the area. It used to be the Odd Fellows Grove, and took its name from the Woodlawn Development Company, which subdivided the grove into lots.
Elsewhere on our site we have a letter describing the community of Berlin ( these days on Rt. 10 in Bracken County), that refers its location as "on the Washington and Newport Trace road," leading us to speculate that the origin of the name of the road we know as Washington Trace is so named because it ran to Washington, Kentucky, in Mason County, from Newport.
Visit the Camp Springs site for lots of interesting content, here.
Uprising at Comer's Camp, a Flagg Spring prison camp, in 1887, here.
Campbell County's first settlement was at Leitch's Station, on the Licking. Helen Bradley Lindsey's account of it is here.

(pdf)

You can also read about Leitch's Station in a Steve Preston item at the Kentucky Tribune site.
Getting to Leitch's Station had its perils.
California was incorporated as a city on February 7, 1874.
The Dry Creek Bridge is out. We have no idea exactly where it was.
Tug Fork moon shiners
Sts. Pete and Paul
St. Peters on Twelve Mile
The Catholic Telegraph, January 3, 1895
Sts. Peter and Paul have their history on their web site.

The Catholic Telegraph, May 24, 1894
The dedication of the new building from 1899.
Pleasant Ridge Baptist Church


From a Facebook posts by Kim Fisher

Flagg Spring Baptist Church
A brief history at this site. Read about their 25-day camp meeting here.
Grant's Lick Mail Carrier
from the February, 2020 Kentucky Explorer


Grant's Lick's Post Office's Last Day was February 25, 1950
Tollgate, near what is now the intersection of Stonehouse, Schultz & Grandview.
The toll was for going between Grandview and Alexandria
from a Facebook post by Michael Alfred Heringer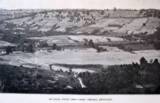 The Rifle Range for Fort Thomas
Rifle Range Road is so named because it's where the solders stationed
at Fort Thomas were marched for target practice.
from a Facebook post by Erik Geiman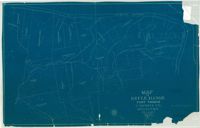 A 1909 plat of the rifle range - it's a BIG image.
The Elijah Herndon house, on Washington Trace, is on the National Register of Historic Places.
The application (pdf) contains lots of images, history, and architectural details. From 1982.

Paul Deisel, Carthage, Kentucky
Ralph Tarvin writes: "The person in the photo is Russell Paul Diesel the thirteenth child of John A. Diesel and Rachel Augusta Moore was born at Carthage, Kentucky on February 18, 1901 and died on June 22, 1990. He married Helen R. Johnson. He in fact was my Great Uncle. The structure is a river work boat, a dredge or something of that nature. Hope this is of some help" Thanks, Ralph.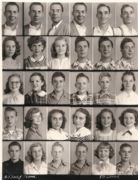 A. J. Jolly
list of names here.
The town of Salisberry was established in 1806.

Campbell County Homemakers, 1936 and 1932

Hey! No cows is this man's meadows:
"The following is a copy of a written notice posted upon a farm a short distance from Newport, on the Alexandria Pike: 'Nottis-know kow is alloud in these meders any men or women letten that kows run the rode wot gits inter my medders aforesead shall have his tail cut off by me' Obadiiah Rogers." Courier-Journal, May 27, 1873