Fifth Street School, Dayton, KY 1909
Eighth Street School, Dayton, 1915
a.k.a. Dayton High School, built in 1904, it burned on January 21, 1924
Five fire departments responded, but the water hydrants were frozen.
October 18, 1911
The Dayton Basketball Team with John Wooden (in the sweater), the second greatest college basketball coach ever.
Or, the greatest ever, to people who've never heard of Adolph Rupp.
right, from a Facebook post by John Syder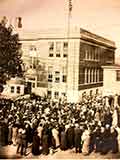 St. Bernard School Dedication, 1925
From a Facebook post by Kahy Poos


The Dayton High School (the one from 1925-1983) is on the National Register of Historic Places.
The application (pdf) contains lots of images, history, and architectural details. From 1985.
St. Francis School, c. 1910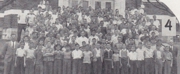 Dayton Conservation Club, c. 1950's. Partial key.


Dayton's excerpt from Mary Lee Caldwell's History of Education of Campbell County.

Dayton Independent Schools' web site is here.