One of the most, maybe *the* most, sensational crimes in Northern
Kentucky history is the bizarre saga of Pearl Bryan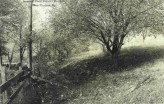 Scene of Pearl Bryan Murder

Alexandria Jail where they held Jackson and Walling
"The citizens of Alexandria, to which Jackson and Walling were removed, are
circulating a petition to Judge Helm asking that the execution be held in their town."
from the Richmond, Kentucky, Climax, March 10, 1897

Pearl Bryan
Alonzo Walling
Scott Jackson
L. D. Poock
The Lane on the Locke Farm

Searching the Covington
Reservoir, for her head

Pearl boarding a carriage
All of these illustrations are
from the Poock book. Poock was
the shoe salesman that identified
the shoe, and it's point of sale.

At the Greencastle home
The Fort Thomas Mystery as
Solved Through the Shoes,
by L. D. Pock, illustrated
by J. N. Baker

The House on 9th
Wilbur Wood
Walling
Jackson
The house on 9th Street in Cincinnati, home of Jackson and Walling.
These images all from New York's The Journal, of February 9, 1896, the full text of which is below. Pearl made national and international news coverage.

Make no mistake, the scene of the crime was a huge tourist draw.

Sheet Music for Pearl Bryan
The are lyrics to to other, different ballads about Pearl Bryan here and here.
Folklorists, working with a collection of old songs at Western Kentucky University, have
identified at least six different songs, with variations within those six, about Pearl Bryan.


They found her head! On at least 7 different occasions.
February 29, 1896
September 27, 1897
August 18 and
August 22, 1902
February 19, 1907
November 27, 1908
May 18, 1911
November 7, 1934
For the record, NKYViews doesn't believe any of these are really Pearl. We could be wrong. We also think this is an inordinately large number of found heads.