If you're not familiar with what Newport Barracks was, there's a short
description of it, on Wikipedia, that will help, here.
View of the Barracks, c 1830's
Map with Barracks, and the old Newport Street Names
Layout and Description of the Barracks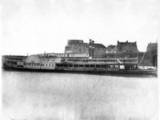 The steamer Bostona ties up at Newport Barracks
The steamer headed south down the Licking is the
Golden Rule, that's the Barracks in the background
Newport Barracks, 1883 Flood

Indianapolis Journal, February 14, 1883
Looking Across the Licking in the 1884 Flood
Cincinnati, Ohio from the Newport Barracks
from a stereoview card, circa 1885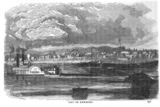 Ele Bowen cruised down the Ohio in 1855, and kept a detailed journal of places he passed. This is his
drawing of Newport. You can read his Rambles in the Path of the Steam-Horse in its entirety at Google Books.
Mouth of the Licking, with Newport Barracks
"The army maintained the Barracks while it constructed Ft. Thomas. On November 11, 1894, the last commandant of the Barracks, Major William M. Wherry, a Missourian who won the Medal of Honor in the Civil War, marched the entire garrison of two officers and 57 enlisted men three miles to Ft. Thomas. Wherry returned to decommission the post and lower the flag for the final time November 28." from Newport, Kentucky: A Bicentennial History, Purvis, et. al
An older litho of the Barracks


The Barracks was earlier named Fort Eustis?