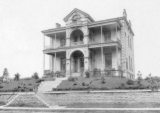 Vonderhaar and Stetter Funeral home
3rd and Overton, 1922
The Donaldson Lithographing Company, Newport, 1909
to "Mr. Henry Bramlage, Hamburg, Indiana
How's Henry? Am the same old scout. J. Meirose"
(Thanks to Richard Cole for the letterhead images)
There were also touring musical groups sponsored by Donaldson
Donaldson, 1909
A description of Donaldson from 1909 is here.
Inside the Donaldson Lithographing Company
Owners Marie and Edwin Offenbacher
September 17, 1942
1939
Proprietors Edwin, and Marie, with son Wilbert.
Edwin Offenbacher, age 42, May 7, 1939.
The Stadium Inn, where the Newport Library is now. Read more about it here.

A big thanks to Brian Malone for the images and the background.
The W. J. Baker Co., 1948, and 1909. Forrest and Saratoga.
now in Wilder, and online here.
| | | |
| --- | --- | --- |
| | | |
| The Val Weber Bakery on the north west corner of Dayton and Harris Streets. You know Harris as 9th. | | John Steinhauer's Bakery, on 285 Tibbats, or, after they renamed the streets, 31 E. Tenth. |
Blau's Grocery, 10th and Washington
From a Facebook post by Tom Taylor

Palm Beach Clothing, Newport,
right is 1948

Dueber Watch Case Factory
southeast corner of Washington and Madison; ad is from 1885
(Madison was later renamed 5th)
Read much more about Dueber's at this site.
Examples of some of the watchcases made by Duebers
Dueber had a falling out with Newport (see the article above), and built this factory in Canton, Ohio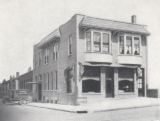 Beetz's Bakery, 1922
Known for Beetz's English Pound Cake
"The Beetz Bakery was started and operated by my grandfather Frank Beetz from about 1918 to 1948.
He was born in Germany in 1876, lived in London from 1888 to 1908, and then moved to Newport. He worked
at Roth Bakery at 9th and York before starting his bakery at 10th and Boone." - George White
The Dean Gas Engine & Foundry Co. 1906
corner of 1st and Washington
Pompilio's
There's a history of the restaurant on their web site, here.
Dining room pictures from a Facebook posts by Cincinnati Bootlegging and Prohibition, left, and Lori Guilliams, right
Joe and Jeff's Gulf Station.
After the Floodwall; before I-471.


From a Facebook post by Ken Rechtin

Crestview Carryout Ashtray.


From a Facebook post by Mike Fitters
The Bump


From a Facebook post by Gail Runion

The Bump


From a Facebook post by Sam Routzon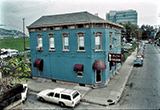 Miss Callie's, 2nd and Saratoga
Previously, Clyde's Grey Brick
From a Facebook post by Frank Michaels
| | | |
| --- | --- | --- |
| | | |
| Roy Rogers Roast Beef, on Carothers, 1974 | | Ponderosa Steak House, on Carothers |
| | | From a Facebook post by Andrew Marsh |
Victor Brown Florist, East Eighth Street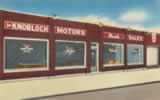 Knobloch's, A Nash Dealer
East Sixth Street
The 3rd Street Motor Car Company is on the National Register of Historic Places.
The application (pdf) contains lots of images, history, and architectural details. From 2002.
Otto Zimmerman & Son, 1922, 1948
120 E. Third Street
Hyde Park Clothes
left, 1948