| | |
| --- | --- |
| | |
| Beverly Hills, 1949 | from US 27 |
The Beverly Hills Supper Club
165 People Died Here, May 28, 1977.
The Cincinnati Enquirer's Story is this site.

Beverly Hills Matchbook
| | | | | |
| --- | --- | --- | --- | --- |
| | | | | |
| | The Chapel | Staircase; Zebra Room Doors | Lobby | The Empire Room |
Beverly Hills Chef Charlie Chandler and his assistants
From a Facebook post by David Brock
Entrance from US 27 - Alexandria Pike
Beverly Hills Scenes, December, 1969
That's owner Dick Schilling on the right.
The Menu for the Trianon Room at Beverly Hills
Beverly Hills Menu
Beverly Hills Brochure, 1970's
From a Facebook post by David Brock
Aerial Views of the Beverly Hills Supper Club. 1970's: I-471 is under construction.


From Facebook posts by David Brock.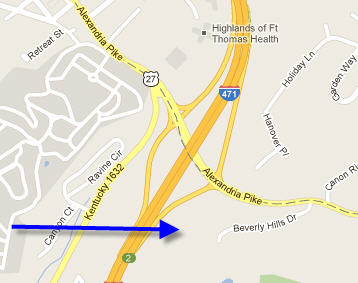 We forget some people aren't old enough to remember where it was . . .
Google maps to the contrary, you can not drive up Beverly Hills Drive.
It's private property, so no trespassing.
And when you ignore us, wear boots.



Dann Woellert writes about the Schilling Family at his wonderful site, The Food Etymologist.
If you have even the slightest interest in the Beverly Hills fire, we urge you to get and read a copy of Robert Webster's book,The Beverly Hills Supper Club Fire: The Untold Story Behind Kentucky's Worst Tragedy, along with contributors David Brock and Tom McConaughy. Webster's exhaustively researched work not only starts with a history of Newport's corruption, but goes on to make a convincing case for the fire being the result of arson by the mob, and a cover up of that fact by the authorities.

The 1951 Kefauver Commission's Report had a profit
statement from Beverly Hills. It's here.

Beverly Hills was earlier known as The Old Kaintuck Castle. Long time Newport club
owner Pete Schmidt changed the name to Beverly Hills (after his daughter Beverly),
and remodeled extensively.