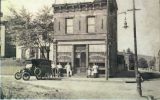 Philip Schambach's Bakery, 1912
1301 Banklick


Kentucky Livery, 123 W. 13th Street, 1940,

(between Banklick St. and the railroad)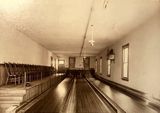 Bowling Alley at 1129 Banklick, owned by William Haunert, a grandfather to Frank G. Hehman, grandfather of Gerri Hehman Joseph, who posted this image on Facebook.
Marion G. Grubbs,
Grocer,
44 Pike Street
Gus W. Menninger,
Undertaker
66 W. Pike
Hellmann Lumber, 321 West Twelfth. The Hellman Lumber history.
The Casino Theatre, 1912, Parker & Stephens, proprietors
7 Pike Street
Riesenbeck's Grocery, 7th an Bakewell
From a Facebook post by his granddaughter, Kathy Koch Santangelo


Theodore Vogt's Delicatessen and Grocery, 701 Bakewell
The Avey Drilling Machine Company was at 25 East Third.

From a Facebook post by Charlie Pyles

Avey Drilling Machine Baseball Team, 1928

From a Facebook post by Hillary Delaney
| | |
| --- | --- |
| | |
| | G. B. Murphy sold groceries on the s.e. corner of Fourth and Main; the n.w. corner of 5th and Philadelphia, and on the s. e. corner of 5th and Scott. We've no idea which location this is. |
Zimmer home at 712 Pike. It
has four stories; the bottom
story well into the ground to
store excess produce and beer.
 The family moved here after
living above the grocery at
the right.
Zimmer Grocery, on Lewis
and Western. Proprietor
Charles Zimmer also owned
a second grocery store on the
corner of 12th and Hermes
in 1910. That's Frances Bockweg
Zimmer, 3rd from the left.
Zimmer Garage
at 555 Pike, in
the 1937 Flood
Zimmers Grocery


from a Facebook post by Joe Metz
A big thanks to Erica Miller Broenner for sharing these Zimmer pictures. Frances Bockweg Zimmer is her g-g-grandmother
The S. H. Knox
Five and Ten Cents Store,
The Busy Store of Our City


At 40 Pike Street, 1908

The Hippodrome,
7th & Washington. Background.

John Arink, Fashionable
Merchant Tailor, 1890,
6th between Main
and Bakewell
Covington Sawmill and
Manufacturing Co,
N.E. corner, 2nd and Main
The Star Foundry Company
 Manufactures of Famous "Reliable"
Line of Stoves and Ranges
221-231 Main Street
Fred Seifert's Bakery
1429 Russell Street, 1952
photo courtesy Frederick
and Catherine Seifert
Consumer Ice
on the C & O Railroad,
at 8th Street
Kentucky Planing Mill
Eighth Street
The Overman & Schrader Cordage Company's Eagle Twine
Mills had their offices at 26-28 E. Second Street in Cincinnati,
but the mill was in Covington, on the northwest corner of 16th
and Russell. They were "manufacturers of coarse and fine twines,
wrapping and sail twines, tube and hide ropes. Also full line of
Manila and sisal rope, tarred and untarred lath yarn, plumbers
oakum and packing." At it's peak, 500 or so people worked there,
but the demise of steamboats killed virtually all rope businesses.
Overman Schrader
Cordage Company

In 1902, Charles Schrader, the company's president, wrote to Congress concerning a regulation that would cause enormous harm to the business community. It seems the government wanted to institute the 8 hour work day on government contracts ("to the detriment of every citizen in the land"). You can read his letter here.
| | |
| --- | --- |
| | |
| 1922 | 1901 |
Sebastian Lathe, southeast corner of 3rd & Philadelphia

| | | | |
| --- | --- | --- | --- |
| | | | |
| 1904 Location | 1905 Location | 1917+ Location | 1917+ Location |
Kelley and Koett
1917+ Location
Workers
The magnificent Koett Home,
515 Russell Street

The Kelley - Koett Manufacturing Co., casually known as Keleket, was one of the largest X-ray
machine manufacturers in the USA. 212 W. 4th St, Covington
A history of the firm from 1924 is here.
A company description from 1915 is here.
Kelley buys an airplane in 1927.
Kelley obituary.

The Remains of the T. S. Hamilton Tobacco Warehouse after being burned down by Night Riders, March 26, 1908.
The warehouse was on the north side of 4th, between Philadelphia and Bakewell.
On March 24, the Post boldly proclaimed that night riders wouldn't dare come into Covington.
On March 26, the Post had a detailed account of the damage done by the fire.
| | | |
| --- | --- | --- |
| The Kentucky Post's story on the 27th is here. | A list of other buildings destroyed in the fire is here. | If you need a little background on who the Night Rider's were, it's here. |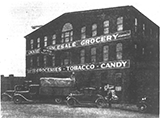 Dixie Wholesale Grocery
8th & Washington
From a Facebook post by Brad Wainscott
Joseph VonHandorf Sr., Dealer in Wines and Liquors, 609 Main

from Facebook posts by Amy VonHandorf Weaver.
Family Theater
Shirley Theater
Family Theater Re-Model
The Family was on Main Street between 6th and 7th; the Shirley on Holman. Both were owned by Ethel and Nick Shafer. Two images at left both taken in 1943.

from Facebook posts by Jeff King
The Moeschel - Edwards Corrugating Company on the railroad, between 8th and 9th
Brownfield's Mill Work, 33-37 W. Eighth
More on the Brownfield Company
"My dad's (Vern Ernst) grocery store at 670 W. 3rd & in Covington. Opened in April 1963. The original store opened in 1944 on Dixie Highway in Park Hills. He owned the store with his brother Wally Ernst, and later partnered with his brother-in-law Gene Sturgeon and long time friend Ernie Franklin."

From a Facebook post by Rick Ernst




Sears & Roebuck,
1940,
7th, West of Madison
Wadsworth Electric Manufacturing, 1922
11th, between Madison
and Russell

Feders
at 602 Pike,
in the 1937 Flood
from the Fall-Winter 2012
issue of Northern Kentucky Heritage.
Here's the application for the Wadsworth Building to be on the National Register of Historic places, complete with photo's, history, and maps.
Lockett and Tate,
19th and Russell, 1928
Tate, c. 1950
Tate Builders Supply, 1940
Tate builders was at W 19th
& Russell, on the NE corner.

| | |
| --- | --- |
| "One hundred feet of the stone wall of Gaylord's foundry, Covington, fell in the river yesterday. Its height was 55 feet. It had been undermined by water. Loss $15,000" Courier-Journal, May 7, 1870 | Goldsmith's was in the 600 block of Russell, and made baseballs, dolls, and toys. Where "The ladies do not begin work before 7 o'clock and quit at 6 o'clock. On Saturday's, work stops at five o'clock. |
| Greer's manufactured steam locomotives on Philadelphia between Third and the river. | American Wire Screw and Nail did manufacturing at 16th and Washington (when the railroad ran down the center of Washington Street) |

The Honey dipper,
John George Exterkamp, 1907, 8th and Dalton


(a honey dipper cleaned out outhouses)




from a Facebook post by Mark Exterkamp

Jesse Sanders on his Ice Wagon in Covington, c. WWI
Quality Coal Company, 1943
"The Hottest Coal in Town"
130 W. 19th Street
T. W. Spinks Company,
You're looking northeast, just
north of the 19th Street Bridge.
Phoenix Manufacturing Co.,
314 Russell
The Spinks family sold bricks, lime, stone, and cement mostly in Covington and Latonia but also in Newport. These images are c. 1910.
More on the Spinks Company.

The Houston, Stanwood & Gamble Co.,

(best picture quality available)
| | |
| --- | --- |
| | |
| Engine Shop | Boiler Shop |
The Houston, Stanwood & Gamble Co., northwest corner of 3rd & Philadelphia
More about Houston, Stanwood & Gamble

Dick's, mid-1940's


From a Facebook post by Kim Walker Bourke

Dick's Standard, Fifth and Main
from a Facebook post on the Old Northern Kentucky page

"One Cent Reward. Ranaway from the subscriber, HENRY FINCH, an apprentice to the Saddling
business. The above reward and no thanks will be paid for his return. The public are forewarned
from trusting or employing him. Andrew Ross, Covington."
from the Licking Valley Register, August 10, 1844.