J. A. Smith Grocery Store, 1912
Western Reserve and Anniston
Dry Creek Road from the Bridge
Crescent Springs
St. Joseph's
Dedicated in September, 1916

Dr. Paul Tenkotte has a piece on the history of St. Joseph's at this site.


Crescent Springs Consolidate School
right, 1948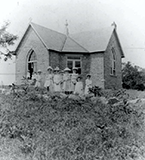 Crescent Springs Presbyterian Church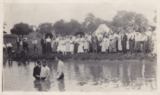 Baptism in Crescent Springs
Crescent Springs Depot,
January, 1913

Crescent Springs Depot
Southern Railway Train M43 with EMD GP38-2 SOU 5118 passes under the Crescent Springs
trestle on December 16, 1989. This pic is a copyrighted photo by Don Faris.
Clicking on the thumbnail will take you to railpics.net, where the original resides.
Picking up passengers at
the Crescent Springs depot.
Queen & Crescent Bridge
Crescent Springs
Railroad workers at lunch
in Crescent Springs, 1919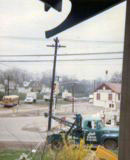 Ken's Tressler Comet, Anderson and Western Reserve
Thanks to Elaine Kallmeyer-Oestricher for this picture!
Feder's
From a Facebook post by Kevin Kallmeyer
Baseball, in Crescent Springs


6-19-1909, To Nellie Gans, Anderson, Indiana This picture was taken back of the School House, we used to play there when we went to School. Will send some more pictures later on soon as they are finished. Ida M. Hanauer

Crescent Springs Baseball Team


Thanks! to Frank Harmon for this image.


"Covington police had to escort Umpire H. H. Koester from the city baseball diamond at
Fifteenth and Eastern avenue, Sunday afternoon, following a game between the Gold Medal
Oils and Crescent Springs, which the Oils won 8-5 under protest. The followers of Crescent
Springs were infuriated over several decisions made by Koester during the game and they were
waiting for him outside the field after the game. The police came to his rescue, however, and escorted him from the scene."
The Times-Star, Monday October 2, 1933



Public School,
Crescent Springs
Schoolhouse and
General Store, c. WWI
Swan Street,
looking west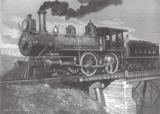 Early steam locomotives had names.
This is the Crescent Springs, Cincinnati Southern engine #1.
It was later involved in a head-on crash in Erlanger, on November 28, 1886.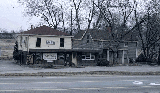 Ruttle's Florist.
They originally opened in Covington in 1898 in the 800 block of Madison; after this location, on Dixie in the Fort Mitchell business district. Shown is what is now the 300 block of Buttermilk. from a Facebook post by Ray Hadorn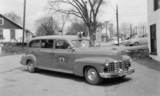 Crescent Springs Life Squad
from a Facebook post by Ray Hadorn

History of Crescent Springs, from the city's web site.
The Rev. Paul Ryan's History of St. Joseph's in Crescent Springs is here.
Anderson McPerkin convicted, hung. Here. The details here; the day after story here.
Man on bicycle mugged on Buttermilk Pike
"A country fire" in Crescent Springs.
Folks in "houses occupied by poor and not too honest people" on Buttermilk road beset by the White Caps, here.
Don't miss a great selection of older Crescent Springs pics on the Kenton Co GenWeb site, here.