Mrs. Juenkine at her Candy Store,
Dixie Highway at Vine, c. 1947
Edward A. Cooper's Appliances
422 Dixie Highway, Erlanger
Doc's Place Erlanger, Kentucky
Known from Coast to Coast for Good Home-cooked Foods
Located Ten Miles South of Cincinnati, Ohio on U.S. 25 and 42
Phone: Dixie 9600
S. D. "Doc" Edwards' Obituary is here

The Kentucky Independent Warehouse could hold up to 400,000 pounds of tobacco. This is an AP wire photo from 1965.
Frisch's
Post Glover Electric Company, 1958
Looking north on Dixie, just
before Edgewood Road, 1954
Grand Opening, April 14, 1961
It was one of three in Greater Cincinnati
The original Mickey D's in Erlanger.
McDonald's Grand Opening was to have "a five-hour concert by a kilted 12-piece Scots bagpipe band."
Albers Grocery Store,
3104 Dixie
Dairy Queen
(Dixie Heights in the
background), 3042 Dixie
Shell Station, later Corky's
Shell, 3098 Dixie
All three of these were taken May 30, 1954
Big Bob's Restaurant, later known as the Dixie Airliner. You more likely know it as The Round Up,
May 30, 1954
Metropolitan Aluminum Company, 819-821 Dixie Highway, Erlanger
Hagedorn and Sons Appliances
Telephone Exchange Building
on Erlanger Road
Erlanger Hardware,
On Dixie near Graves
Wimsatt & Keupel Auto Sales,
Kentaboo and Dixie
Erlanger Motors, c. 1955
Employees at Mac Fisk's
Service Station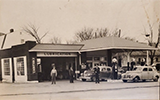 Dixie at Graves
From a Facebook post by Michelle Benson White
Gregory's Steak House
4218 Dixie Highway
From a Facebook post by Dale Ashcraft
The original Colonial Cottage
Marvin Releford was the artist
Erlanger Businesses, 1960's
Parking on Dixie Highway goes away, 1968.
Read the story here.

Showcase Cinemas, 2004


From a Facebook post by Susanne Firestone
| | | |
| --- | --- | --- |
| | | |
| Wainscott's, 1946. Half in Elsmere; half in Erlanger. The tree used as a dividing line is in the rear. This later became Joe Michaels Sunoco (below) and GMC. | Brophy's Insurance and Real Estate, 4444 Dixie at Kentaboo | Joe Michel's Service Body Shop, 51 Dixie Highway, Erlanger |
Putt Putt, 3139 Dixie Highway, 1964
next to China Town
Dixie Chili, circa 1970 - W. corner of Bartlett & Dixie


(ever notice what a fine line there is between history and nostalgia?)
Aerial Views of the Crestview Mall, the forerunner of the
Crestview Hills Town Center, and a successor of the
planned, but never-built Dixieland Shopping Center

We're indebted to the Erlanger Historical Society for many of the pictures you see here. Thanks, folks.