i.e., Other than Devou Park
| | |
| --- | --- |
| | |
| The New Eleventh Street Park | The Eleventh Street Park |
The Eleventh Street Park was previously the site of a market building
| | | |
| --- | --- | --- |
| | | |
| Goebel Park Playgrounds | Goebel Park Shelter House | Goebel Park |

The Goose Girl Fountain in Mainstrasse Park, dedicated in 1980, was
inspired by a fairy tale from the Brothers Grimm, which you can read on this site.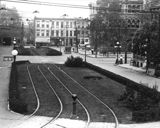 Withers Park, now Park Place. That's the Traction Building on the right,
and the trolley tracks are heading across the Suspension Bridge
from a Facebook post by Matt Mansu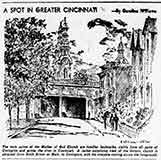 Caroline Williams sketches Sixth Street
Sixth Street Park
1913

View of the Sixth Street
Park 1909

Sixth Street Park
c. 1908
Sixth Street Park
1916
Read about the origins of MainStrasse and the Sixth Street park, as a market, at the Kentucky Tribune's web site, here.
Carroll Chimes Bell Tower
MainStrasse Village, Covington

MainStrasse, Covington

There are seven statutes of notable Kenton County/Northern Kentucky area folks at the George Rogers Clark Park on the Covington riverfront. Curiously, George Rogers Clark is not one of them.


John Roebling, designer of the
Suspension Bridge, has a
bio here.
Richard J. Miller is the sculptor.
Simon Kenton. There's a site devoted
to the man for whom Kenton County is
named, here.
You can read the Kenton Statute
plaque here. Sculptor is Robert
Koepnick.
Capt. Mary Greene, one of the very
few women who were steamboat
pilots, has a biography here.
You can read the Greene Statute
plaque here. Michael Price is the sculptor.
James Bradley, noted abolitionist, and
an active conductor on the Underground
Railroad. Once a slave in Pendleton
County, he wrote an account, in 1834,
of how he worked to buy himself out
of slavery. Read it here.
You can read the Bradley Statute
plaque here. George Danhires is
the sculptor.
Little Turtle, a Miami Indian leader who
led several successful battles against early
American settlers, has a bio here.
You can't read the Little Turtle
Statute plaque - vandals stole it.
Robert Koepnick is the sculptor.
John James Audubon, famous painter
of birds, spent some time in Covington.
His bio is here.
You can read the Audubon Statute
plaque here. Elliott and Ivan
Schwartz are the sculptors.
Daniel Carter Beard, founder of the Boy
Scouts. His bio at Wikipedia is here.
You can read the Beard Statute
plaque here. Ken Bradford is
the sculptor.
Melton Park? It was incorporated in South Covington in 1876. In 1876 "South Covington" could be pretty much anywhere south of Holmes.

Garfield's Park, Covington?
That's what it says, but we think we've got a mislabeled card here.
We think it's Cincinnati's Garfield Park. We've also seen cards of the "Covington Zoo,"
and "Fountain Square, Covington, Ky."