Flood Levels from the Various Maysville Floods
Year
Flood Level
1884
66.9 ft.
1913
67.8 ft.
1937
75.4 ft.
Earlier Maysville flood information is here.
January 26, 1937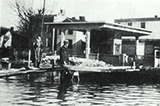 Simon Kenton Bridge Tollgate, 1937
from a Facebook post by Mark A. Hopkins.

From a Facebook post by John Brodt
1937 Flood Scenes. That's not a stranded train. That's a bunch of cars full of coal, intentionally placed, trying to hold the track down to keep it from washing away.
East Second. Notice the top of a car
roof in the center of the image
The flood and its aftermath


Two remarkable images from Facebook posts by Kelley Farris
3rd St. Looking East


from a Kelley Farris Facebook post

On Second Street
Second Street
Maysville and Aberdeen, 1937
1937 Flood, Maysville
1937 Flood in Maysville


Both from Facebook posts by DeeDee Robbins Boyington
| | | |
| --- | --- | --- |
| | | |
| Maysville, 1937 | Second Street | South on Sutton |
Believed to be the 1937 Flood
Porter Funeral Home in the 1937 Flood
1937 Flood in Maysville, on Second and Market,
looking west. The clock on the right is Traxel's Jewelers.
Maysville in the 1937 Flood
A Lexington Leader reporter files a report from Maysville in the 1936 flood.




Martial Law declared during 1937 Flood, details here.

"I knew the situation was bad, but I didn't realize it was that bad," [Kentucky Governor Happy] Chandler said after viewing the ruins of homes which formerly housed 1,500 Maysville families." Cincinnati Enquirer, February 5, 1937

The highest level the 1937 Flood reached "was in the Old Dutch Inn on 4th Street. There are some high water markers left around on buildings. It covered Third Street in some places, but not all. The high water mark was three feet under the current flood wall."

Harris Walker, posting on Facebook
Thought to be the 1937 flood
The Hollywood Theater was across from the Opera House, and was earlier known as the Pasttime. It closed c. 1942.
1937 Flood, Vance's
Vance's was at 2nd and Court.
From a Facebook post by Thom Anderson
C & O Depot
Second Street
Looking North
From a Facebook post by Janie McDonald Herzog
Bread arrives via an air drop in 1937.
Market Street
Porter's Funeral Home
Second Street
From a Facebook post by John Brodt
Vance's
Security Bank
Flood Scene
From a Facebook post by John Brodt
High School in 1937


from a Facebook post by Kelley Faris

1937 Flood Scene
1937 Flood Scene
1937 Flood Scene
How much greater was the '37 flood than its predecessors? Lots