The Riverfront, c. 1906
The J. T. Hatfield II passing Maysville
That's the underside of the old C&O
Railroad trestle on the left.
The ferry and the wharf boat
Maysville Riverfront
Ville de sept collines
(City of Seven Hills)
River Scene, c. 1910

1935
Floodwall Construction, September 27, 1953


From a Facebook post by Suzanne Beckman

Floodwall Construction, 1953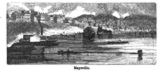 Ele Bowen journeyed down the Ohio River in 1855, and made
sketches along his way. This is his Maysville sketch. You can read his entire
book - Rambles in the Path of the Steam-Horse - online at Google Books.

Scene of the Grand Union Barbeque, Maysville, 1861. Read all about it, here
The floodwall, shortly after completion, and during construction.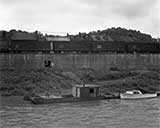 1946
A great photograph requires finding a scene in the right place, in the right light, and knowing what to do when you find it. This example, from April 21, 2021, comes from a Facebook post by Jessica Parker.
Lock and Dam property for sale, 1969
Lock and Dam #33, from 1939.
The high water of 1917 had submerged the coffer dams at the construction of Lock
and Dam #33 below Maysville. The Jim Wood waited for days, but when water had
subsided a little, the owners, in Pittsburgh, said to try to get her through, so the captain tried.
He was going upstream against a heavy current, and the pictures tell you the rest of the story.
Ripley Island
from a Ron Bailey Facebook post
A pair of c. 1910 Maysville postcards in French.


Fleuve is the French word for as river that's a tributary to another river.
Upriver from Mason County used to be Ohio River Islands, 1887
This 135 acre island was actively farmed for over 40 years by Manchester's Frank Cooley.
And then there was the time the Buckeyes used the island for a lynching, details here.
The burning of the steamer Bostona No. 3, here.

(pdf)

The Steamer Phæton explodes near Mason in 1881, story here.