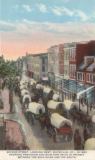 Second Street, looking West
Provision & Munitions Wagon Train, 1861
The government shipped 5,000 guns to Lexington to support Union troops.
They came by boat to Maysville, and went overland to Lexington.
Fire at Beechwood, c. 1978
from a Facebook post by Mark Humphries


| | | |
| --- | --- | --- |
| | | |
| Original Maysville Library | First Street, 1969 | Maysville Country Club |
| | | A little background. |
Grave Alley, 1940

(from 2nd to 3rd, between Wall and Sutton)

Sixth Street


From a Facebook post by Camilla Kehoe

Gold Star List
West Fourth Street (pdf) is on the National Register of Historic Places.
Downtown Maysville (pdf) is also on the National Register of Historic Places.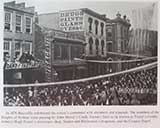 Celebrating the American Centennial, 1876
Showing the Croquet Depot?
The nineteenth and early 20th centuries saw elaborate decorations for celebrations, as seen in these two images of Second Street, likely from the late 1800's.
Ferris Wheel
Maysville Scene
From an old stereoview, c. 1880
Rosemary Clooney
Parade, 1953
At "a fair near Maysville"
A diving horse act was a thing, c. 1890-1910
Wikipedia has more on such acts.
P.T. Barnum's Great World's Fair, Museum, Menagerie, Caravan, Circus, and Colossal Expression of All Nations

left, August 7, 1875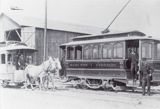 Two horsepo . . . uh, mulepower Trolley
Streetcar driver Milton T. McClanahan, 1930,


from a Facebook post by his grandson, Alex McClanahan

Trolley in the snow
Maysville Trolley, c. 1930
The summer cars had no sides. This is c. 1910
Over the trestle to the fairgrounds
The trolley in Maysville began, horse-drawn, on August 14, 1883. It converted to electricity in 1891, and ran through the December 31, 1936. In its last year, it carried 400,000 passengers, but lost money. It ran from a turn-around loop east of the cemetery, along Second Street to Bridge, along Third to Market, and down Market back to Second. It followed Second to another turn-around loop, just East of Beasley Creek. There were two short passing tracks, one between Commerce and Poplar, and one between Wall and Sutton. The tracks got ripped out in 1942: scrap for the war effort.
A 1910 item on the Maysville Street Railroad is here.
| | |
| --- | --- |
| | The name Limestone comes from an expedition in 1773 of nine men, including Captain Thomas Young, Captain John Hedges, and Lawrence Darnell. They guided their boat, from Pittsburg, into the Limestone Creek cove, and camped there for a number of days. It was Hedges who named the place Limestone. See G. Glenn Clift's History of Maysville and Mason County. |
Former President John Quincy Adams visited Maysville on November 14, 1843.
The first birth's in Mason County
Child's Name
Parent(s)
Location
Date
Col. Joseph Logan
John Logan
McKinley's Blockhouse
September 27, 1785
Mrs. Elizabeth Forman (nee Dolly Wood)
Washington
December 14, 1786
John Mefford
George Mefford
Maysville
December 4, 1787
Mrs. Joseph Morris (nee May Overfield)
Kenton's Station
September 6, 1788
Mrs. Emily (Milly) Hancock
Jacob Boone
Maysville
December 6, 1788
Isaac Thomas
Mefford's Station
November 8, 1789
From G. Glenn Clift's History of Maysville and Mason County, who cites Collins' History of Kentucky as his source. Why neither sought to name mothers who just might have been involved in these births we have no further information.
You can find 50 or so Maysville scenes from the late 1960's and early 1970's at UK. The relevant UK site is here.
S. J. Daugherty, Monuments
Thanks to Bill and Judy Cooper for this one.

Maysville, 1940
The Russell Theatre, Maysville
Read the story of the grand opening of the Russell Theatre here.
A description of the Russell from 1935 is here.

The Russell Theatre has its own website which you can find here.
The Russell Theater

(pdf)

is on the National Register of Historic Places.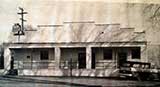 The Boy's Club
The Limestone Center is at this location these days.


A Walking Tour of Maysville, with descriptions of notable sites. Here. (pdf)

from the Brooklyn Daily Eagle, February 15, 1891
An 1871 city directory of Maysville lists, with addresses, each of the towns citizens, here (pdf).
(and by "citizens," since it's 1871, we're talking white men and a few widows)
It also has a listing of businesses, by business type, and with some ads, here (pdf).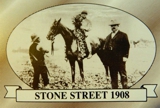 The jockey shown here is Arthur Pickens, whose wife was from Maysville, and Maysville was Pickens home after he retired. He's in the Jockey Hall of Fame, had 76 career wins, and in 1908 won the Kentucky Derby atop Stone Street. Read more about him at the Maysville Ledger Independent, here, or at Wikipedia.
Stone Street won the 1908 Derby, but still holds the record for the slowest winning speed ever in a Kentucky Derby. He died a gelding.
Image from a Facebook post by Ron Bailey
Market House, 1829-1883. More on the Market House is here.
A correspondent from "Washington City," who signs himself "O.B.," wrote a series of sixteen letters describing his memories from the Maysville of yesteryear, 1832. Some are long; some short. All are pdf's. The Market House picture above is also used by him.
Letter 1
Letter 2
Letter 3
Letter 4
Letter 5
Letter 6
Letter 7
Letter 8
Letter 9
Letter 10
Letter 11
Letter 12
Letter 13
Letter 14
Letter 15
Letter 16
"$50,000 worth of meat is annually sold from the Maysville Market House. This does not include the 3-5,000 sheep butchered for their hides and tallow, or cattle bought by the butchers for export." from the Louisville Morning Courier, September 13, 1845
A Walking Tour of Maysville