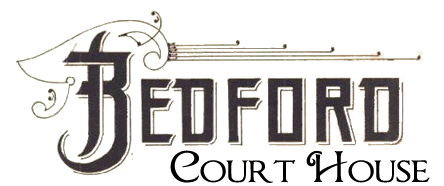 Past and Present - in 1916 - Trimble Courthouses
This is the first court house in Trimble. It was built in 1837.

The second Court House, during an April Sleet Storm, 1916
March 5, 1952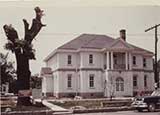 1964
Trimble County Court
House in Bedford
July 20, 1930
Trimble County Court
House, Bedford
Court House,
Bedford, Kentucky
This building burned down on March 5, 1952. It was 68 years old. One of the casualties of the fire was a famous rooster weather vane, said to be a symbol of Trimble County's solid Democratic majority.

Read the story here, and the story of how they coped in the meantime, here.

A little more information on the Trimble County Court Houses is here.
Legislature reduces the size of Bedford's public square, 1838.

Trimble County Court House,
Bedford, with the jail, 1961
from the back

The early Trimble
County jail
"For the first time in a year, Bedford has a prisoner in its jail, but he is from Indiana."
From the Covington Daily Commonwealth, November 24, 1897.
The jail is on the National Register of Historic Places

"NOTICE TO BUILDERS:. The Undersigned will receive sealed proposals up to 2o'clock on May 24, 1884, for the erection of a new County Court-House at Bedford, Trimble County, Ky. Plans and specifications may be seen at the County Clerk's office at Bedford, Ky., or at the office of McDonald Bros., Architects, Louisville, Ky., at any time from present date to the letting. Andy or all bids may be rejected. Bids should be delivered or directed to J. W. Lee, County Clerk, Bedford, Ky. Jas. W. Bell, W. R. Logan, L. G. Peak, Building Committee." Cincinnati Enquirer, May 17, 1884
1864 robbery at the courthouse, here.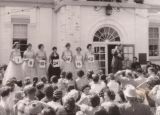 We have no idea . . .