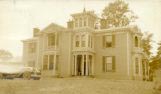 Residence of B. H. Berkshire, Petersburg, 1931
to Mr. and Mrs. J. H. Taylor, 30 Caswell St, Newport, Rhode Island.
"This is our headquarters down here. It is wonderful country and
we're enjoying ourselves a lot. Elizabeth and Robert"
These four are all from about 1935 of Prospect Farm, or looking from there.
J.C. Jenkins built it in Petersburg.
The Jenkins-Berkshire House is on the National Register of Historic Places
Dr. James M. Grant Home (also known as Hazel Scothorn White's and her husband James Enoch "Nick" White's Home). A little background.

Helms Home

Chambers House

George Bessler Home
at the ferry landing

Gordon Home

Vice House,
Ashby Road

Home in Petersburg

Pratt Holloway Home

.
Prospect Hill, c. 1913
For more Petersburg residential scenes, see our Petersburg section of John Uri Lloyd images, here.



For substantial portions of the Northern Kentucky Views Petersburg images,
we are indebted to the E. Y. Chapin Library in Petersburg, and to Ms. Bridget
Stiker, at the Hebron Branch of the Boone County Library.