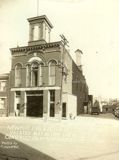 Station #1, 1883-1934, on E. Fourth
From a Facebook post by Old Photos of Newport
There's an issue about the bell from the station.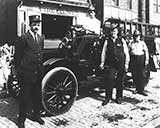 Newport Fire Company #2
From a Facebook post by Old Photos of Newport
Background on Fire Co. #2

Newport Fire Department
Pat Gerrein Emark tells us: "That's Wilbur (Fritz) Gerrein behind the wheel of the firetruck. The white-haired gentleman on the right (holding two hoses) is Pat Henzerling (sp?), and I believe the guy in the white hat w. a bow tie could be Henry Wheitholder (sp?) who was fire chief when our dad died in 1966. I believe Henry's son, Tommy, may have followed in his dad's footsteps to become chief, or assistant chief, or at least a firefighter. The picture was taken behind the firehouse that was on 4th street. It would be hard to guess the year - you might add ten years to the year of the cars parked there. . . most fire fighters couldn't afford a car that was less than 10 years old! My guess would be between 1950-1964 (wide range!)."


These are Cincinnati Firefighters demonstrating equipment for the Newport FD, July 19, 1922.
We suppose that building on the far right had nothing to do with the CFD's choice of demo sites.
1945
From a Facebook post by Old Photos of Newport
Newport Fire
Department, 1907
Newport Fire Department, 1941.
A key to names.
Newport Police
Department, 1900
Newport Police
Department, 1958.


from a Facebook post by Bob Brown
Engine Company #1
Ahrens used the Newport
Fire Truck in an ad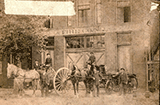 Washington Fire Company No. 1 (10 East Fourth Street)
Scene of the death of Newport
Fireman Lee Howe. Details.
Hose Wagon #3, located in
the 300 Block of W. 7th
from 1892 to 1928
Hose Wagon #4
1915. The fire truck on the left is by US Truck in Covington, a subsidiary of Stewart Iron Works. On the right is a truck by A Schacht
Another US Truck Co fire truck in Newport.
An Ahrens Fire Truck. Details
Images and information from the Vanishing Cincinnati Facebook page.
1919 Ahrens Fox

(left)


1928 Ahrens Fox

(right)

A 1922 Ahrens Fox
pulling a Seagrave Ladder
Fire Company 1 located at 10 East 4th Street.
Several of these images are from the Newport Fire Department's own web site. There's a history of the department there, too.
Margaret Strebel Hartman's History of the Newport Fire Department (pdf) is here.
Newport Firehouse, 1948
From a Facebook post by April Scales Huffman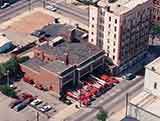 A photo by Larry Stulz, who describes it: "Newport Fire House with all vehicles pulled out onto front driveway near 4th and York. I took this shot sometime in the late 1980's. Every building in this photo is no gone. The Freedom Bell will be right in the middle of this photo now. Where the black parking lot is, just above the fire house chimney, was a notorious 'house of ill repute' back in the day. When it burned in the early 1980's, many secret room and false walls were found. The multi-story building also contained a large bookie operation. This was all located catty-cornered from the courthouse and police station!"