Eighth Street, East from Central, 1907

1890 - The year Newport re-named it's streets
Newport extended it's city limits by these streets in 1868.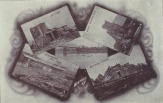 Damage in Newport from the 1915 Tornado
Images include:
1. Wiedemann's Baseball Field, 2. Grace Methodist Church
3. Clifton School ( larger image here), 4. Clifton
5. The L&N Bridge (notice things floating)

In 1930, the Northern Kentucky Automobile Club and the Newport Auto Dealers
Sponsored Safety Week, with Brake Tests. These three pictures are from that event.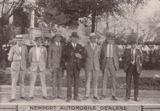 These are the sponsoring dealers. Who are they? Here.

C. N. & C Streetcar lines, 1914-1934
from Terry Lehmann's and Earl W. Clark's The Green Line. Recommended.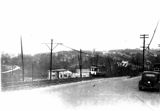 Before I-471, that's 10th and Grand, with the streetcar going up to
Fort Thomas on what you know as Memorial Parkway.
Grand's going downhill; Waterworks going uphill.
Harvey's Coal is the business, later a hardware store.
From a Facebook post by Tom Taylor
We have a special fondness for those old pictures that are taken of very dull scenes, but in the present context, are very active places. All three of these, from 1940, are taken from nearly the same spot: the Benjey property, on Grand, behind where Grant Towers is today.. That's Grand Avenue, going up hill into Fort Thomas, on the left and center, and the on the right, the Todd House, where Mildred Dean School was, and a St. Elizabeth unit is now.

A big thanks to Ed and Bev Harber for these three, taken by Beth's father, Louis Achzehner.
| | |
| --- | --- |
| | |
| The Blue Line | The Green Line |
The July, 1926 issue of Hail Columbia, the house publication of the gas & electric company,
ran these two pictures and this article (pdf) about one man's career on the streetcars.
The man that made a boat out of Green Line streetcar.



From a Facebook post by Andy Hemmer



In the trolley years, the Kenton County cars went into the second floor of Dixie Terminal, in a ramp directly off the Suspension Bridge, while the Newport cars came into the first floor, off Cincinnati's Third Street. At its peak, 156 street cars or buses per hour would come though the terminal in rush hour.
Dr. Paul Tenkotte wrote about the Dixie Terminal at this site.

In 2011, the City of Newport published this handy historical tour brochure.
I-471 Construction, 1978
from a Facebook post by Bill Theis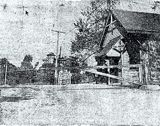 The last tollgate in Kentucky was on Alexandria Pike in Newport.
The story of it's demise is here.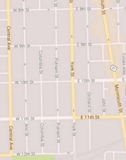 If you read about the "Buena Vista" section of Newport, this is it. The boundaries of what's called Buena Vista have expanded over the years, but these are the official original boundaries: 8th, Monmouth, 12th and Central.
Lots for sale, 1850.