The Carrollton and Worthville Railroad
a.k.a., the C. & W., a.k.a., the Come and Wait, a.k.a., The Careworn and Worthless
That's the C. & W. R. R.'s first President, James Gayle
behind the controls of this jitney. It made daily trips back and forth
between Carrollton and Worthville. carrying passengers, freight, and mail.
Carrollton Railroad #548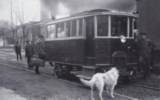 Carrollton and Worthville RR at the station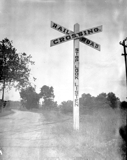 Leaving Carrollton, 1938
More detail on the Carrollton and Worthville Railroad than you likely wanted.

The Journal of the CSXT Historical Society had a full feature (pdf) on the Carrollton Railroad in 2014.
You can visit them at their web site.
The Railway and Locomotive Historical Society Bulletin ran a history (pdf) of the Carrollton Railroad by Kenneth E. Kipfer, in 1944.
The L&N Employee Magazine ran a feature (pdf) on Carrollton in May, 1962.
And before there was the railroad, there were stage coaches. Read about them here.