The L & N Depot, circa 1950
L & N Railroad Bridge over the Kentucky River
"The railroad bridge across the Kentucky river at Worthville is a magnificent structure. It is nearly
completed, and the greater part of the hands have left." Courier-Journal, February 2, 1869
The Last Steam to Leave Worthville. The story is here.
The image on the right is copyrighted by Herron Rail Video, and is
used with their kind permission. Visit them on the web here.
Railroad Crew at Worthville
From a Facebook post by Claudia Spenneberg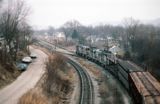 Coming into Worthville, c. 1980.
Worthville area train wreck, August, 1970
From a Facebook post by Bill Davis
Worthville Depot
picture on the right is 1907
The 1914 L&N Shippers' Guide had this description of Worthville.
| | | |
| --- | --- | --- |
| | | |
| The L&N in Worthville, c. 1976 | | |

The University of Louisville Library is the home of the L&N company records. They're all on-line, here. They include a complete set of the digitized employee magazine.