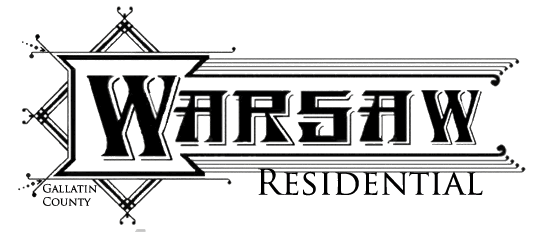 The Rod Perry / Pryor Perry Home on
west side of Sparta Pike. Right is 1935.
Rod Perry's last will & testament is here.
Willis Peak Home, Second Street
You may know it as the Suter Home
The Aunt Kate Watkins
Home in First Avenue

Main Street
That's the Christian
Church in the back.
Home of John & Lizzie Peak
Corner of Sparta Pike & Dry Creek Road
(You more likely know it as the Bingham home)
General Lytle Webb Home on
Riverside Drive. Thanks to
David Webb for this one. Read
his comments here.


Park Avenue Home
On the south side of the Pearl and Sparta Pike

Ed Lamkin, an early publisher of the Gallatin County News built this house on west High Street. Later the home of County Judge Earl Spencer.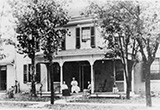 The Lucy Dupuy Montz House at Fourth and High Streets
The application, with images, to put the Lucy Montz home on the National Register of Historic Places, is here.

(pdf)
The Payne / Connely Home,
c. 1910

Seven Pines, 1936

The view, pre-Markland
Dam, from Seven Pines

Seven Pines
| | |
| --- | --- |
| | |
| On Sparta Pike | Haymond home on Sparta Pike |
The Henry Peak House, before it was the Women's Club, June, 1926. Alexandra Weldon tells us: "B.K. Bailey and wife lived there but never owned it. He married Abby Bonds, sister of Sarah/Sally Bonds, widow of Horatio Turpin Chambers, after her husband died, she and her 2 daughters eventually moved to Ohio, and then her sister and husband lived there until their deaths in the late 1950s." 
The Henry Peak House - you more likely know it as the Women's Club - is also on the National Register.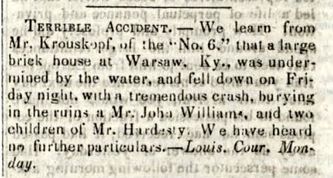 The Catholic Telegraph, December 23, 1847
"A large brick at Warsaw, Ky., was a undermined by the late flood, and fell down with a tremendous crash, burying in the ruins Mr. John Williams and two children of Mr. Hardesty." Pittsfield Sun, January 6, 1848

The Yates House.
East corner of Washington and High St.,
October, 1930. Who was Richard Yates?
Find out at this site.
"East end by the grocery
store" is the inscription
on the back of this one.

"Last Saturday, the skeleton of the frame house adjoining the Commercial Hotel fell while workmen were repairing the building. The fall made a tremendous crash and noise, and caused considerable excitement at the time. Fortunately, no one was hurt. H. D. Clore and J. W. Connor, a stone mason, were in the basement at the time, but the ground floor kept the debris from coming in on them and they were soon released from their imprisonment without injury." from the Warsaw Independent, as reprinted in the Boone County Recorder, September 9, 1896