A site that show some paintings of Maysville scenes, visit the Ohio River Valley Artists Guild, here.


John Rankin
A more courageous man never lived.


Two Lick Baptist Church, at the Germantown and Bridgeville Roads
The old church was struck by lightening and burned, June 13, 1944; the new building was dedicated on December 7, 1947.

Seddon Methodist Church, c. 1958


from a Facebook post by Tom Roberson

Village Grocery in Stonelick


from a Jim Rannes post on Facebook

The Olivet Methodist Church


between Orangeburg and Rectorville




from a Facebook post by Eddie Donlin
In addition to the Seddon Church picture, Roberson also posted a program from a
1965 Seddon Church Pew Dedication, which contains a history of the church. That pdf is here.
| | |
| --- | --- |
| | |
| County Poor Farm | The Slip Up Grocery, on US 62 |
Heflin's Store, being moved from Maple Leaf & Rt. 11. Earlier, it was Gore's Hilltop Grocery.


From a Facebook post by Joy Gore Pollock


Before houses got "burdened down" with such frivolities as central heating, indoor plumbing and electricity, it was pretty common to pick buildings up and move them.
| | |
| --- | --- |
| | |
| Smoky Rigdon's Grocery in Highland Heights, 1969 | Hank Moyer's Antique Store. Earlier the site of the Franklin Seminary; now the site of Highland Christian Church. |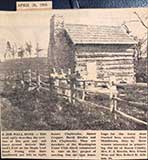 Historic Fence?
The 1868 price list from the Murphysville Woolen Factory. Details.
From a Facebook post by Brandi Mae
Well's Store in Murphysville

Murphysville
declared
dry in 1873.
| | | | |
| --- | --- | --- | --- |
| | | | |
| Walter E. Neal's, 1876 | Mr. T. Neal in 1876 | Smoot Farm, 1876 | White Farm, 1876 |
| | | |
| --- | --- | --- |
| | | |
| Darius Downing's in 1876 | Jacob Slack, Fern Leaf, 1876 | Samuel McDaniel, 1876 |
Tollsboro Christian Church, c. 1910
Tollsboro Livery


From a Facebook post by Kirby Wright
A Lynching in Tollsboro, details here.
| | | |
| --- | --- | --- |
| | | |
| Fern Leaf Standard Station and Grocery, 1969 | Fern Leaf, 1884 | Germantown Pike, near Fern Leaf |
Times and routes of the various state coach routes in Mason County in 1875 are here.
"We learn that John L. Scott has sold his peach crop to a Cincinnati firm for $14,000, the purchaser to gather the fruit, pay all expenses, and take all risks. We learn that the crop is very large and the quality of the fruit good. The orchard contains fifty acres and cost Mr. Scott, some years ago, $4,000. A good profit, certainly." from the Louisville Daily Journal, July 18, 1867, reprinting an item from the Maysville Eagle.
Springdale
Springdale Depot


from a Facebook post by Sandy Ginn

W. T. Pogue's Springdale Stock Farm, 1876
The last resident moved out of Springdale in July, 1974


Powersville Couple
Two photo's and a caption, on the L&N at Helena, in 1950
Helena is incorporated as an official town in 1854.
Helena Methodist (pdf) is on the National Register of Historic Places.
A visit to Helena Methodist is at this site


from the Chicago Packer, September 16, 1916
Point-Au-View Farm, 1910, is described here.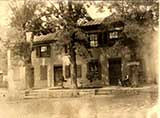 The Mutual Telephone Company, Lewisburg
Later, Charles Lee's grocery
From a Facebook post by Lisa Collins
Read about Lewisburg's "Uncle Sam" Jackson, here.

(pdf)

Lewisburg distillery burns in 1869, here
History of the Lewisburg Baptist Church is here.

(pdf)

Lewisburg, then spelled Lewisbourgh, established in 1795.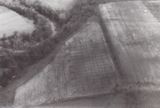 The Pyles Site
Pyles is an archaeological site of a Newtown village, from the 1499-1000 A.D. period. On a ridge on the North Fork of the Licking, about a mile west of Lewisburg.
Over 2,000 items excavated as part of the Curtis Collection from "the Fox farm" in Mason County, are donated to the Kentucky Historical Society; others to the Smithsonian.
Gwendolyn Dieterich Wilson at Charleston Bottoms, ready to fly.

From a Facebook post by Jim Wilson
Charleston Bottoms


From a Facebook post by Ron Bailey, of a Bob Chamblin picture.

Charleston Bottoms
From a Facebook post by Camilla Kehoe
Charleston - then named Charlestown - was established by Virginia before Kentucky statehood, in 1791.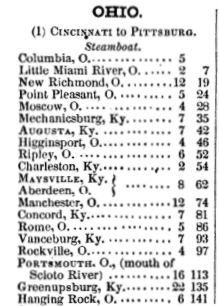 Notice that there's a town between Ripley and Maysville called "Charleston,"
in this steamboat distance chart from 1855's The Western Tourist and Emigrant's Guide.
It was where International Paper and the Spurlock Power Plant are today.
Here's a description of it from 1795. 1795!!
And in this 1804 map, note Charleston and Washington exist; Maysville does not.

Slack, c. 1858
Slack was at the intersection of Germantown Road and Big Pond Road
Remember the town of Newtown? Founded by Kenton and others on the Licking, 1793.