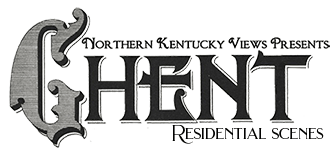 Ghent Residences, 1946
Main Street in Ghent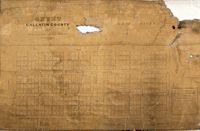 Ghent, 1837, (...a big image)
Bill Davis suggest to us that this is a proposed map of lots; that there were no parcels east of Ferry Street.
When you want to sell your property for industrial development, but don't want to leave your home, you move your home. The moving of the Duiguid house, west of Ghent.

From a Facebook post by Retta Craig Lykins

Ghent expands its city limits to include the Tandy House.

Main Cross between the Odd Fellows and the old gas station on the corner. The Welcome Inn apartments, earlier a Scott Brothers store, and at one time the post office. The new building anticipated in the caption never materialized.

From a Facebook post by Bill Davis

Walton Craig Home, near Ghent

"The old Walton Craig home stood west of Ghent. For may years it was the home of T. M. and Bettie L. Scott, later it was the Warden home, and finally was leased to Billy Lewis. The property was bought by the U. S. Rubber Company, and my Dad told me the company was not forthcoming about their plans for the property. Fearing a noxious chemical plant might be going in there, the town annexed the land and no plant was ever built. Subsequently the company wanted to reduce the tax value of the land and tore the house down in 1969. The house was just west of where the Hubert Harris house stands (remodeled in recent years). The Walton Craig cemetery is to the east of the former Harris home, and is visible from US 42."

Bill Davis, writing on Facebook, May 15, 2020
The Walton Craig Home, Ghent
left, You can see the old Ghent College in the
background. More about the Walton Craig home here.

Thanks to William Davis for these two images.
| | | |
| --- | --- | --- |
| | | |
| Bettie L. Scott at her home, formerly the Walton Craig house. | | Craig Home, Key to who's in the picture. |


On the back: Mr. & Mrs. Ben H. Hopkins, Ghent
Bill Davis gives us the full scoop.
From a Facebook post by Darrell Maines
On the west side of Main Cross
From a Facebook post by Greg Hulvey
"This house is at the foot of Ferry Street in Ghent, Kentucky (over the hill from the Baptist Church). There is a deed showing a house stood on the exact same spot as early as 1819, and it might be the same house. Another memoir of Ghent dated the house to 1840. It was the Charles Lake Keene Jr. home, later the home of his daughter Nannie Keene and her husband Joshua Morris "Dot" Craig, later the home of Dolly Craig and Henry "Mac" Smith, then it belonged to their daughter Caby Jean Smith Sibley, and is now the home of Caby Jean's son, Tom Sibley." - Bill Davis