I.O.O.F. Opera House
The I.O.O.F. is International Order of Odd Fellows

[Wikipedia]

. An Opera House at this time in US history should *not* be thought to have very much, if anything, to do with fat ladies in Viking Helmets, singing in Italian. They were used for all kinds of high brow and low brow performances, entertainments and traveling shows.

Most towns the size of Warsaw had an opera house. The programs below are the type of fare you could typically find at a small town opera house:
| | | |
| --- | --- | --- |
| | | |
| | New York Clipper, January 16, 1904 | New York Clipper, April 4, 1903 |
Not all of these are programs from the Opera House, but most are. Another one here.

"The Colored Odd Fellows celebration held in Wm. Payne's woods near town,
last Saturday, was a very successful affair." Warsaw Independent, February 9, 1884


The WPA wraps up the new water system in Warsaw in 1935, here and here.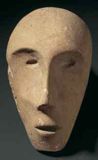 Found near Warsaw, this mask dates to between 200 B.C. and 400 A.D.
It's in the Smithsonian.
Brochure from the Warsaw Bicentennial Celebration

Indianapolis News, December 19, 1898