| | | |
| --- | --- | --- |
| | | |
| Simon Kenton | | He's buried in Urbana, Ohio. |
There's a site devoted to Simon Kenton, the man for whom Kenton County
is named, here. Kenton was formed January 29, 1840 from Campbell County.
You can go to Google Books and find several long-ish pieces on the life on Simon Kenton, some book length, some entire chapters in other books. Search for "Simon Kenton" - use the quotes. You can read the ones that say "Preview."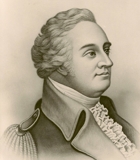 Covington is named for Leonard Covington (Wikipedia), whose father came from a noble family from the Neubreisach neighborhood of
Alsace (and who, in 1697 wrote his name not as the anglicized "Covington," but as the German "Kurfingthan").
The first man to settle in what is now Kenton County was John Grant.
These two men are responsible for the Suspension Bridge.
That's John Roebling on the left, and Amos Shinkle on the right. Roebling had the vision of how to design and build it, but it was Covington's Amos Shinkle who had the vision to bet his personal fortune to make it happen.
Covington's most famous son may be the artist Frank Duveneck
James Ott has written a feature story about Duveneck, but mostly about Mrs. Duveneck, at this site.
Covington boys collecting salvage, September, 1918
Henry Eilerman
Covington's William Goebel, and his statute in Frankfort. A controversial political figure elected Governor of Kentucky; assassinated January 30, 1900. More on Goebel is at this site.

Four Goebel Funeral Scenes


The story of Goebel's assassination, from an account written in 1905 is here. (pdf)

James C. Klotter's William Goebel: The Politics of Wrath is online in its entirety at Google Books.

On February 6, 1900, Goebel's dead body lay in state in Covington at the Odd Fellows Hall at 5th and Scott. 100,000 people passed by.

Steve Preston wrote this item at the The Kentucky Tribune's site summarizing Goebel's life.



In 1895, Goebel was involved in a gun fight on Madison Avenue. You can read about it here and at this site.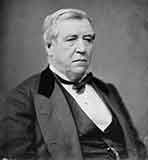 The other Governor from Covington, John Stevenson.
You can read more about his life, at Wikipedia, or here. (pdf)

How Did the First Covington Streets Get Their Names?

For the first five men to serve as Governors of the State of Kentucky


Isaac Shelby
James Garrard
Christopher Greenup
Charles Scott
George Madison
Dicky Beal Drive is named after the former Holmes & UK basketball player.
See his UK career record at this site.

The 1992 Northern Kentucky Bicentennial Commission published the biographies of
a number of prominent Northern Kentuckians, including these Kenton Countians: (pdf's)
.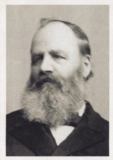 Read about Covington artist Johann Schmitt at this site. (You may need to hit a "translate" button
at the top of the page). He did paintings inside many of the Covington churches, and throughout the midwest.

Howie Camnitz, bio at this site, MLB stats at this site.
Bill Sweeney was an infielder for the Boston Braves and others (1907-1914)
Hank Gastright, bio at this site, MLB stats at this site.
Dick Niehaus pitched for the Cardinals (1913-1915)
Joe Sommer played for several teams (1880-1890)
Neal Brady played for the Yankees (1915, 1917) and the Reds (1925)
Bill Niles played 11 games for the Pirates in 1895
Harry Berte played four games for St. Louis Cardinals in 1903.
John Black played 54 games for the St, Louis Browns in 1911.
Bob Clark played 7 years (1886-1893) in the bigs.
Eddie Hohnhorst played in 1910 and 1912 for the Cleveland Indians
Donald Johnson, born in Covington, was a star in Negro League Baseball. More on him at this site.
John Farrell played for Washington (1901) and the Cardinals (1902-05)
Covington's Johnnie Heving, a catcher, and brother Joe Heving, a pitcher
Ludlow's Dale Williams pitched 9 games for the Reds in 1876. He was 1-8.
We've omitted more contemporary i.e., non-historic, ball players from out list.


Daniel Carter Beard (June 21, 1850 - June 11, 1941)
The man who "invented" the Boy Scouts grew up in Covington.
His autobiography, long out of print, is good reading about the area, if you can find it.
His Wikipedia page is here.

Local Heroes, of Covington
A 1995 mural formerly on display at the Covington Library
and the key to who's in the pic.

Born and buried in Maysville, noted Kentucky historian Richard Collins practiced law for a while in Covington.
More about him at this site. The state evidently tried to cheat him on his history book, here.
Last and absolutely not least, his book is on line at this site.


Mr. T. C. Tichenor

Mr. J. A. Caywood

Mr. R. C. Hinsdale

Tichenor Middle School's
site is here.

Caywood Elementary's
site is here.

Hinsdale Elementary's
site is here.

Mary Ellen Tanner
Clement J. Barrhorn
George Washington Cutter
Vocalist. Her Enquirer obituary.
Sculptor

(Wikipedia)

Poet.

(Wikipedia)

. His most famous is here.
Ollie James. About Mr. James.
Ludlow's Grace Rothert was a vaudeville performer doing "novelty and acrobatic dances."
This 1919 item describes her success. In Australia.
Mary Francis Taney
Author, suffragette, and founder of the Colonial Daughters of America. More at this site. A pdf of one of her books of poetry is here.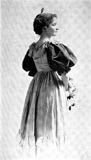 Covington's Eva Wilder McGlasson Brodhead (1870-1915) (Wikipedia), a novelist.
You can find a number of her works in their entirety at Google Books.
A little more about her in this piece.

Fred J. Meyers
George C. Bramlage
Two Covington men who ran the Fred J. Meyers Manufacturing Company, which started in Covington, but would eventually move to Hamilton, Ohio.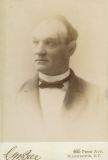 One of Kenton's more famous citizens is John G. Carlisle,
who you can read all about on his Wikipedia site, here.
In 1893, Mrs. Carlisle published a cook book. Her recipe for Kentucky Black Cake is here.
Information about Carlisle and his home is here. (pdf)
"Covington, Ky., - Dec. 5.- The home of John G. Carlisle, this metropolis, is still celebrating his election. Nineteen tar barrels blazed last evening and threw a lurid glow of Southron victory o'er the cloud curtained sky, visible at a distance of several blocks. The excitement is intense, and strong men are weeping."
New York Times, December 6, 1883

Thomas Shaw was awarded the Medal of Honor. Details (Wikipedia)
There are two soldiers who are recipients of the US Medal of Honor from Covington, and both achieved the honor in battles against Indians in the American West:
On August 12, 1881, Thomas Shaw "forced the enemy back after stubbornly holding his ground in an extremely exposed position and prevented the enemy's superior numbers from surrounding his command," in a battle at Carrizo Canyon, New Mexico.
Thomas Sullivan was awarded his based on his actions on October 20, 1869 in the Chiricahua Mountains in the Arizona Territory for "gallantry in action against Indians concealed in a ravine."


Ron Ziegler, press
secretary to Richard
Nixon, and the man who
declared Watergate, "a
third-rate burglary."
Ben Lucien Burman
an author of 22 novels
Robert Surtees, born August 9,
1906 in Covington, was a three-time
academy award winning cinema-
tographer. The impressive list of
the films on which he was the
cinematographer is at this site.
George Sperti was born in Covington, and had a home in Ft. Mitchell, even though he was partial to his Boone County farm. He invented Aspercreme, Preparation H, and a method to make orange concentrate. His Wikipedia page is here.
And then there's John Mount, a record-holder.
Elijah Green was an importer of immigrants.

The last man to be legally hanged in Kenton County. Details.
Dr. George S. Sperti (Wikipedia)
| | | |
| --- | --- | --- |
| | | |
| The Davis Sisters lived in Latonia, and were an early county music trio. A little more on them here. | Frequently referred to as "Cincinnati Artist Henry Farny," he lived at 1391 Banklick in Covington from 1890 to 1907. Search Google Images for Henry Farny to see LOTS of his Indian paintings. | Remember Durword Kirby? He was from Covington. There's a bio here. (He was the inspiration for Rocky and Bullwinkle's "Kirwood Derby," about which he was not amused.) |

My Father's House in Washington, Kentucky (1886)
a painting by Covington artist Mary Bruce Sharon
Dixie Seldon was a known Covington artist. More on her at this site.
If you search her on Google images, you get lots of her paintings.

Mary Ann Mongan,
for whom the Covington Branch of
the Kenton County Library is named
Eugenia Farmer, early Covington
suffragette. More on here at this site.

William Grant High School's Tom Thacker is the only player to have played on an NCAA championship team, an ABA championship team, and an NBA championship team. His NBA and ABA record is at this site.
Thacker is in the Kentucky Athletic Hall of Fame

Covington's Una Merkel, was a film actress who starred in many movies from 1930 through 1966. There's a list of her credits and a bio at Wikipedia, and a whole bunch of her movie star pictures, here. She's buried in Highland Cemetery.

John Schlipp wrote about Merkel at the Kentucky Tribune's website, here.

Know who Haven Gillespie was? The man who wrote Santa Claus is Coming to Town, and many other songs, is from Covington. More at this site, and at this site. A little more bio information and a picture of his home in Covington are here.

(pdf)

From time to time, history gives you one of those magnificent ironies: A compilation of letters from the Kentucky Post of kid's letters to Santa. Including one from a 5-year-old named Haven Gillespie.

| | |
| --- | --- |
| This is Marcus Loew. He's one of the most influential men ever in the motion picture industry, and founder of the MGM studios (because he needed content for his large chain of theatres). He originally started in penny arcades in New York, then in Cincinnati. On a walk one day, he wandered into Covington and talked to a Covington house painter wh0 showed films on a sheet in his living room for a nickel. Loew copied the idea, first in Cincinnati, and then in New York. Read Loew's account of the Covington painter here. | |
Many men lost their lives in WWI. These are but two of them, who happened to have been photographed. The full list from Kenton County is here.

Benj. Sebastian
Jacob May
J. H. Mersman,
President
Jas. M. Rude,
Vice-President
Management of Covington's Sebastian Lathe Co.

J. M. Rude Manufacturing Co, Covington

Wes Wilson
Read about him here.

Covington Attorney W. H. Mackoy
A short biography is here.


"We publish, to-day, a list of the income tax-payers of Covington, for the year 1868. The following are some of the heaviest incomes reported: Amos Shinkle, $34, 849; Robert Hemingray, $28,113; W. C. Hamilton, $20,550; A. Hathaway, $17, 493; Uriah Shinkle, $13, 880; J. E. Brewster, $12,254; Joel Baker, $12,264; Vincent Shinkle, $11, 962; George A. Hamilton, $10, 865." from the Louisville Daily Journal, May 4, 1868



Who's who in Kenton County in 1840, here.
Last and least. Covington's Virginia Knapp models a wooden bathing suit. 1934.