Lowdenback's Store in Pleasant Home
In 1888, Pleasant Home incorporated as an actual town.
Natlee, c. 1910
Owen County log cabin.
Road Crew in Owen County with knapping hammers.
"I have one of those hammers in my tool box. It was my Dad's tool. I asked how he drove nails with it. I got The Look."

Donald Thomas, commenting on Facebook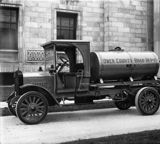 County Truck, taken, for some unknown reason, in front of the Louisville Public Library. There's a possibility that it's for Owen Co., Indiana.
Hesler
From a Facebook post by Jenni Duncan
John S. Forsee's history of Hesler from 1939 is here (pdf).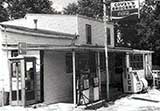 Covey's Grocery at Four Corners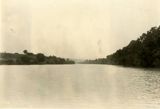 On the Kentucky, 1920
Somewhere south of Lock #3 at Monterey
Sites on the Owenton Carrollton Road, c. 1925
These three Owen County sheep farming images are all from the
Kentucky Agricultural Extension Service, and are, from left to right,
from 1932, 1937, and 1927.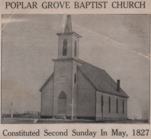 Poplar Grove Baptist Church
A description of Poplar Grove from 1880 is here.
The Poplar Grove to Glencoe Turnpike was authorized in 1875. This image is 1930's.
Mussel Shoals Church, a painting by Ron Wainscott
From a Facebook post by Jim Mason
A few words on the background of Muscle Shoals Church
Pleasant Ridge Baptist
Harmony Baptist was once incorporated by the Kentucky Legislature
Old Cedar Baptist is on the National Register of Historic Places. Read their application here.
Natlee Covered Bridge
A little background on the Natlee covered bridge is here.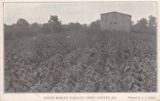 White Burley, Owen County, Kentucky
Long Ridge Store, c. 1910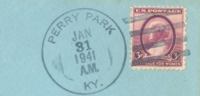 Remember when Perry Park had it's own post office?
| | | |
| --- | --- | --- |
| | | |
| | Chicago Packer, July 24, 1909 | Chicago Packer, April 30, 1910 |
| | | |
| | | |
| | Chicago Packer, July 23, 1910 | Chicago Packer, May 27, 1911 |
| | | |
| | | |
| | Chicago Packer, August 5, 1911 | Chicago Packer, May 27, 1911 |


San Francisco Call, July 29, 1894

Col. William Breckenridge (Wikipedia) comes to Moxley.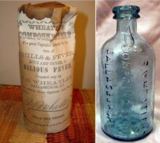 Wheatley's Compound
that Great Vegetable Remedy for the cure of Colds and Fevers
( . . . and probably at least 40 proof.)
"Dallasburg – Will McNeel is the most hospitable merchant in town, he keeps
a bucket of gratuitous lemonade." From the Carrollton Democrat, February 4, 1882
"Fletcher Murphy and 'Yellow Bill Smith' residents of Dallasburg precinct, in Owen
county, enjoyed a neighborly exchange of shots on Monday last. Smith was well peppered
with shot and Murphy got a rifle ball through the thigh." Courier-Journal, October 24, 1870.
The Dallasburg Seminary was established in 1851