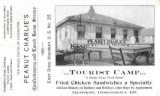 Peanut Charlie's, Independence
Peanut Charlie's story is here.
1966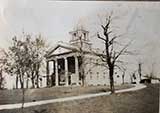 From a Facebook post by Bill Becky Cornelius
Private Residence

Kenton County Jail

Kenton County Court House
The new Independence Court House is celebrated in 1912. The Courier-Journal also ran a story.
The Court House, 1917
From a Facebook post by Dale Ashcraft
"Besides holding court, the [court house] building was used for a private school, church, church suppers, Sunday school, a dancing school, plays, concerts, funerals, dances, a teachers' institute and even a circulating library! . . .Designed by Covington architects Fahnestock, Ferber, and Robertson, the structure was completed in 1912 at a cost of $29,500." from the Behringer-Crawford's Back Roads

"There has not been a commitment to the county jail in Independence for twelve months past.
The last prisoner was released from the institution in August, 1871."
From the Covington Journal, April 20, 1872

The F. G. Oxley House, Independence
(you can locate it on the map below)
Thanks to Liz Alosi for sending the image.
If you have any more info on the home, you can email her here.

The origin of the name "3L Highway"? Try here.

Noah's Ark Tokenon the L.L.L.
Noah's Ark
Noah Minter McDannold
Noah's Ark

A big thanks to Roy Klein
for sending this one.

A Home for Tourists Rooms, and Meals Phone, Ind. 1831
Route U.S. 25. Six Miles South, of Suspension Bridge,
Covington, Kentucky, April 18, 1927


How can Noah's Ark appear to be on US 25 and the LLL Highway? Here.


Thought to be c. 1957


From Facebook posts by Eric Bolen. 

Independence Fire Department
Independence V.F.D.,
1941 A list of men in
the picture is here.
Kenton County Court House
Nie's Pharmacy, c. 1975
Chapman's, 1966,
5213 Madison Pike
Earlier a Shell Station
Thanks to Tom List for posting these three pictures of the Scott School, near Independence. The only student we can identify is the girl in the black dress in the image on the right - thought to be Lucy Eudora Beers
Pleasure Isle
Independence - Nicholson
Bus Line Taken in front
of the old Court House
in Covington

(It's a 1948 Studebaker.)

J. D. Patton Area Vocational
Education Center
3234 Turkeyfoot Road
Walton-Independence-Covington Greyhound bus schedule from 1948. We count 4 busses north and 5 south, daily.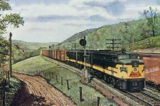 L and N's Silver Bullet, near Independence, 1952. Artist unknown.
When fast freight trains had actual names...
from the Cover of the L&N Employees Magazine, July, 1957
The L&N train above is coming out of Tunnel #6 onto Bridge #40, over Bank Lick Creek.
The train here is coming north. The tunnel #6 would be "daylighted" in 1962, as shown below:
Scenes from the 1962 daylighting of tunnel #6.
Read the story here. (pdf)
A track re-alignment and culvert installation occurred at about
the same time. Story and a few pictures are here. (pdf)
At the corner of Independence Station Road


(before and after the station was built!)

Early View of Independence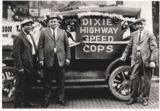 Dixie Highway Speed Cops
(Rt 17 used to be called the Dixie Highway)
Harry "Pop" Nuxoll, with patrolmen Dedden and Frolicher
Joe Schmiade, Kenton
County Police Officer
Kenton County Police
Department, 1971
The Kenton County Fire Department in the 1950's. The
truck had earlier belonged to Elsmere; and was earlier
a US Army vehicle.
John Folmer at his garage
with Chevrolet Busses
Early railroad workers
on the L&N near Independence
A *very* early train
through Independence Station
Scenes from the Folmer farm near Independence

Scenes from the Bach
farm, Independence
(where the Kenton Co.
Garage is now)

Independence, 1976


From a Facebook post by David Moore

Kenton County Motors


From a Facebook post by David Martin
| | | |
| --- | --- | --- |
| | | |
| High School, Independence | High School, Independence | Simon Kenton Busses, 1941 |
Independence High School evolved from a private school that had been organized in 1894.
Two rooms of the high school building were for elementary students.
A history of Simon Kenton School is on their web site.
C. A. Quick Whiskey Distillery
Scott, Kentucky
(roughly where Fowler Creek meets Banklick Creek)
Simon Kenton Gymnasium, 1941
Kenton Elementary School, 1952
From a Facebook post by Richard Cardosi


Simon Kenton, 1941
The Simon Kenton Band, 1982
Feature on the new Simon Kenton High School that's about to open in 1937, here.
Independence, 1938, Part 1
Indepence, 1938,, Part 2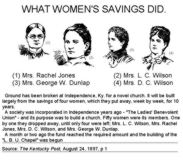 Four Independence women start a church.
Read more about them, here.

Independence incorporates, becoming an official city in 1842.
A few words on the Presbyterians in Independence.
There are two Independence properties on the National Register of Historic Places: The Metcalf -Stephens House and the Yeager-Mohr Farm. Each has histories, pictures, and a map.
Ivanora Hume wrote a couple of pieces looking back on Independence history. Both are here.
The naming of Independence, here.
The City of Independence has its community website here.
"A most enjoyable and unusual affair to place at the Simon Kenton High School Saturday evening, where 140 people gathered at a banquet to talk over old school days of the nineties, when they were pupils of the Dunlop and Lucy private school in Independence." from the Kenton-Campbell Courier, April 7, 1938.
"A fire at Independence, Ky., yesterday, destroyed the warehoused of Ellis & Stephens. Two hundred thousand pounds of tobacco was burned. Loss, $15,000; fully insured." Indianapolis News, June 5, 1877
"Independence, Kenton county, voted against the sale of liquor, Tuesday." Courier-Journal, November 11, 1876
Campbell County man discovers an Independence fortune, here.
The 150 gallon still they found in Independence.
Rev. Paul Ryan's history of St. Cecilia is here.
Professor missing from Oak Island Seminary, here.
Judge orders Covington City Council to provide furniture for the courthouse. City Council says no. Turns out that might have been a bad idea. Story's here.
1917 Fire in Independence, here.
"We are glad to learn that Mr. William Smith, who has considerable experience in the business, has commenced running an Omnibus daily between Covington and Independence. The attempts heretofore made to establish a line between these two point have failed – why, we do not know." Covington Journal, November 30, 1850
L&N timetable for Independence Station, 1879, here.
A Civil War incident in Independence, here.
Area south of Independence "kept in constant terror" in Civil War., Details here.
The Kentucky Post reports on January 16, 1908 that a march was planned by tobacco farmers from Nicholson to Independence. State Senator Elliston would speak and the parade would be led by the Walton Brass Band, with marchers from Boone, Grant, Pendleton, and Kenton Counties. Marchers in the parade would all sign a pledge in support of the American Society of Equity, refuse to grow any tobacco crop in 1908, refuse to lease land to anyone not pledged to the Equity, and to not house any tobacco not grown by the Equity. Hundreds marched. The parade was a support of the tobacco wars of 100 years ago, about which you can read more, here.
Independence Branch of the Union Savings & Loan