Monmouth, looking north.
That's the old library (se corner of 4th & Monmouth) on the far left.
Colonial Theater, 943 Monmouth
Note Krogers on the right.

(Barney Kroger lived at 624 Monroe, between Sixth and Seventh, and was married at Immaculate Conception in Newport.)

The Strand, 1945
Opened in 1916, the Strand at 827 Monmouth St. in Newport was purchased by Gus Phillips in 1927 for $140,000. This was the site of Northern Kentucky's first "talking" movie, In Old Arizona, in 1929.
This is a list of movie theaters in Newport in 1916. Talking pictures didn't arrive until 1927, so you can see that ten years before "talkies," silent film viewing was a thriving business in Newport.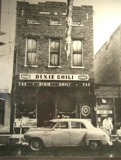 Dixie Chili is on the web here.

Becker Brothers Meats, 942 Monmouth, c.1930's


from a Facebook Post by Mike Becker



Gieskemeyer & Winkler's
1027 Monmouth.
Note the dog on a stretcher.
Dr. Jacob and Jack Winkler's
Small Animal Hospital,
1034 Monmouth
from Facebook posts by Barbara Sparks Rawe
Two locations of the grocery of William Enzweiler. The one on the left was on the northeast corner of 6th and Overton. The center image was at the southeast corner of Monmouth and 4th. Note the Highland Dairy wagon on the left in the center picture.

From a Facebook post by Enzweiler's grand-daughter, Jeanne Greiser
Read more about Raymond Lippert and his business here. (pdf)
Site prep at the shopping center.


from the Facebook page of the Newport Shopping Center

The shopping center in the early 1960's


from a Facebook post by Joy Friday

Walt's Bowling Center in the
Newport Shopping Center, 1959
Like a number of businesses in Newport, the shopping center was reportedly owned by the members of the Cleveland Four, Moe Dalitz, Morris Kleinman, Louis Rothkopf and Sam Tucker, members of what today we call organized crime.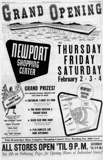 There were two grand openings for the shopping center. The first stores opened in 1955, and they celebrated that, and then when all the stores had opened, they had another grand opening, as shown here.

The ad is from a Facebook post by Barbara Sparks Rawe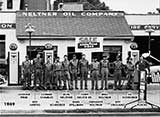 Neltner's, annotated
From a Facebook post by KOI Auto Parts
Neltner's,

From a Facebook post by KOI Auto Parts

Neltners, 1952
across US 27 from Newport
Shopping Center
Looking East 18th St./Neltners, November 19, 1954, to what's becoming the Newport Shopping Center


from a Facebook post by Bev Achzehner Harber
Fausz Brothers Restaurant


from Facebook posts by Louise Mcgue



J. Schweitzer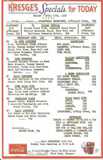 812 Monmouth
from a Facebook post by Ron Hofstede
Frisch's
(the white car is a 1954 Kaiser)
from a Facebook post by Debbie McDonald Kolp

from a Facebook post at Old Photos
of Northern Kentucky

The first (left, 1950) and last Frisch's at the sw corner of Monmouth & 19th. (there's a Speedway there in 2020). It was the first Frisch's in Northern Kentucky.

Menu from a Facebook post by Barbara Sparks Rawe


Frisch's robbed in 1969, by burglars who leave a very polite note.
Herbies, before that, Scotty's
Roughly where there's a Penn Station now, across from Walgreens.
100 years ago, across from the tollgate that stood where Walgreens is.
from a Facebook posting by Shirley Turner
Koehler Brothers Auto Sales, 231 Monmouth,
1 block from the end of the free bridge, 3 minutes from Fountain Square
Koehler's garage in the center image at 317 Monmouth.


Two images on the left from a Facebook post by John Thompson, and thanks to Jeffrey Schraer for identifying the garage location.
John Steinhauser was a jeweler and watchmaker.
This store is believed to be at 141 Monmouth
This is a list of many - not all - Newport business in 1917, and lists the number of people each employed.
from the Twenty-Second Biennial Report of the Bureau of Agriculture, Labor and Statistics of Kentucky for 1916-1917. The column marked "C" is for children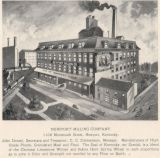 Newport Milling Co, c. 1901
1108 Monmouth
"Newport, Ky., Feb. 10. - At an early hour Wednesday morning, Newport was visited by a $10,000 blaze. The fire almost totally destroyed the Wehenbold Milling Co.'s mill at 11th and Monmouth streets. The sire started on the third floor of the mill from unknown causes. It is thought, however, that it was due to spontaneous combustion." from Richmond, Kentucky's The Climax, Feb. 17, 1897.
"Newport, Ky., July 19. - Fire started this evening in the oil room of Unnewehr's sawmill, probably caused by a gasoline explosion. Within two hours the flames, fanned by a strong breeze, had spread two squares south and east two blocks. The Covington (Ky.) and Cincinnati fire departments were called on and sent a number of engines. Fifty families are rendered homeless. Loss estimated to be between $125,000 and $150,000, with but comparatively little insurance."

NY Times

, July 20, 1898.

"A firm in Newport lately shipped to Boston, Mass., 50,000 feet of poplar backing for picture frames, and 75,000 feet of drawer bottom material." Courier-Journal, August 9, 1870
Canon explodes inside a Monmouth Street Bar.

We know that there were at least these newspapers in pre-Civil War Newport. The dates represent issues that have been found, or referenced, not a start or stop date. The division symbols indicate also publishing after the war.