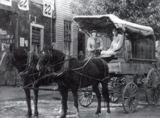 Harry Webb and his Huckster wagon in Williamstown, c. 1915
Think of hucksters as general stores on wagons, that drove all around the county
Jonesville Methodist Church, c. 1910
The Jonesville Deposit Bank merged with the Citizens Bank (Dry Ridge) on June 7, 1940. It was originally chartered on June 29, 1918. We have the incorporation papers

(pdf)

, which contains a list of the original stockholders.

"Jonesville – A large crowd of sportsmen congregated in Jonesville last Friday to witness the turning loose of a fox, which had been kept by G. T. Smith quite a while for that purpose [i.e. fox hunting]. They were disappointed, however, as Mr. Fox made good his escape before the dogs were turned loose." From the Williamstown Courier, November 3, 1898
Two items about a destructive fire in 1894, in Jonesville, here.
Did you know there's a place in Grant County named Cinderfill near Crittenden? Train wreck there in 1912, details here.
We found a history of Jonesville

(pdf)

.
Distillery burns. Here.
Train Wreck kills two, somewhere near the Grant-Gallatin line, here.
"The telephone line was finished through [Jonesville] last Thursday. Quite a number of messages have been sent and received."Williamstown Courier, September 28, 1899.
"The new jail is complete and ready for occupancy."From the Jonesville news in Williamstown Courier, September 28, 1899
"Jonesville. Our little village is comprised of one blacksmith shop, one store and a post office. There are, we are sorry to say, some complaints about the latter." from Covington's Daily Commonwealth, March 22, 1879

Lebanon Presbyterian Church
The second oldest church in Grant County, it merged with
Crittenden Presbyterian Church. The last service here was in 1968.
The "Western Branch" of US 25 in Grant Co.

"Crittenden, Ky., April 8 - James Evert, of Bracht, Ky., erected a building at Flingsville, small town three miles
east of this place, for the purpose of running a blind tiger (Wikipedia). The natives of Flingsville did not seem to approved of this.
so Wednesday night a bomb was placed under the building, and it was literally destroyed."
from Lancaster, Ky., Central Record, April 15, 1898

"Flingsville is located on the Falmouth Road, four miles east of Crittenden, and two miles west of Gardnersville, both flourishing little hamlets. Our town consists of one dry goods store, post-office, an academy, blacksmith shop, a lawyer, 'squire, Baptist Church, good Sunday school, and an enterprising young doctor. Our village is surrounded by fine bluegrass soil, covered with fine cattle, and lined with good old Democrats. We have no such things as "Rads." in our midst, except on one road leading to Kennedy's avenue, which goes by the name Hogan's Row." from the Covington Daily Commonwealth, October 9, 1879.

Vine Run Baptist Church, Folsom, 1948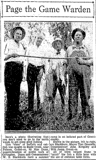 Fishing's Good in Folsom
Kentucky Post, August 18, 1928
This old map shows a "Williams Crossing" at Folsom. Was Williams Crossing an earlier name for Folsom? John Conrad's Grant County history book, and Robert Rennick's Kentucky Place Names book both give Folsom an earlier name of Lawrenceburg, which the post office had them change, effective November 15, 1893. Neither mentions Williams Crossing. The citizens chose to name it Folsom after President Grover Cleveland's wife, Francis Folsom Cleveland, the youngest first lady ever, and the only first lady to be married in the White House.
Folsom's stone Ford House (pdf) is on the National Register of Historic Places.

Elizabeth Christian Church
Independence School
Holbrook's White Chapel,
from a Facebook post
by Faith Clifton
A law passed in 1880 said that you can't sell spirituous liquors within two miles of the Elizabeth Church
Catholic Church at Blanchett
On the Southern at Blanchett, March 25, 1912
l-r: R. H. Case, Flagman; Wm. M. Lanford, Conductor; 2 unknown employees of the Pullman Co.

Rev. Paul Ryan's History of St. Joseph's at Blanchet is here.
Heavy losses from 1926 fire in Downingsville, story here.
Hazel Ogden's History of Stringtown is here

(pdf)

.
A chemical analysis of the mineral springs at "Dowlingsville" in Grant County, from 1856, is here.
History of the Elizabeth Christian Church in Stringtown, here.

(pdf)

Keefer was once known as Priceburg, after its first store owner, John Price.
"Crooked Creek is a beautiful silver stream that runs between two lofty hills. It rises near Corinth, and flows north-east and empties into the Licking river. Two very beautiful little towns are situated on it: Cordova, five miles from the head; and Callensville, at the mouth; also, one Methodist church, known as Layton's Chapel." From the Williamstown Courier, December 15, 1898
A writer asks the Williamstown Courier, "Where's Delia?" The answer is here.
An Interstate Commerce Commission report on a train wreck in Elliston in April of 1938 that killed one and injured 5, and is here. The news report is here.
"On the fifth Sunday in October, the new White's Chapel Methodist church on Eagle Creek will be dedicated. Dinner on the ground. Those near enough are asked to bring well filled baskets." from the Williamstown Courier, October 13, 1904
History of the Salem Methodist Church is here.
The dedication of the new Salem Church (left) was commemorated with poetry. Read it here.
"Williamstown, July 29. - A sad shooting affray took place at Downingsville, this county, last Tuesday, between William Cates, jun., and John R. Clifton, a worthless vagabond. Shots were exchanged from both parties for a few seconds. All but one of Cates' pistol balls entered the inner man of Clifton, causing death." Cincinnati Enquirer, July 30, 1880
"A difficult took place at Downingsville, Grant county, Ky., Saturday, between two some what noted characters, named Jim McCune and Jim Powell, alias "Indian Jim." which resulted in the latter being shot and mortally wounded. McCune was arrested and lodged in the county jail at Williamstown. An old feud had existed between the parties."

The Louisville Daily Journal,

December 21, 1867

Yet another Downingsville murder.
Two Shootings. One Downingsville.
Bethel Grove Methodist Church dedicated in 1883.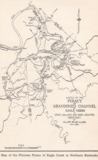 Eagle Creek used to flow north at Folsom into the Ohio? Yes. More here.
L&N in Elliston, 1929

"Dr. Farrell of Elliston, Ky., has the reputation of being a wife beater. He went home drunk and whipped his wife. Monday night a mob was organized and he was hanged to the limb of a tree. He was discovered by boys and cut down before his life was extinct. He will recover."

from the New York Times, May 7, 1896.

The Times article above is obviously picked up from this item, which ran in a number of Kentucky and national papers.

Well, except, not so much. The story of what really happened is here. (A much better story!)

But ultimately, Dr. Farrell did have an unhappy ending.

Hooliganism in 1876 Elliston, here and here.
Robbery in Elliston.
Experts say there's a giant oil field between Bracht and Crittenden.
Road authorized from Elliston to Collin's Mill, 1876.
Bloody shooting in 1895in Elliston, here.
1874 train wreck in Elliston, here.
Elliston depopulated for Webster trial, here.
Violet Price remembers Elliston, here.
Elliston petitions to be move to Gallatin County, here.
Gypsies visit Elliston in 1918, here.

(pdf)

"The colored brethren and sisters of this vicinity dedicated their new Baptist church at this place [Elliston] last Sunday, having a large and orderly crowd with very interesting services."

The Williamstown Courier, August 1, 1895

Elliston Station

On one bright Sabbath morning
Not a sound to break the still,
As I sat beneath my awning
And watched the gamblers ascend the hill.
Then a thought came to my mind
What would be there destination,
If they gambled away their time,
On the hill at Elliston Station.

Then I watched them on their onward course
Till they reached the mountain height
Then I saw the gambling force
Pass slowly out of sight;
Then a thought ran through my brain,
Of wife, and then starvation,
If they keep up the gambling shame
On the hill at Elliston Station.

Then I turned my head around
Not a soul that I could see,
It seemed as though the town
Was as dull as dull cold be;
Then I thought about God's word
In the book of revelation
Then to see the gambling herd
On the hill at Elliston Station.

There I say in a world of wonder,
Of heaven, earth, and hell,
Then to see the little hill yonder,
Where the gamblers always dwell;
Is it not a Sabbath shame
Upon this plantation
For to see the gambling herd
On the hill at Elliston station?

I may break the Sabbath part
In a different part of sin,
But I'll never break my Mother's heart,
In a gambling game to win;
I may disobey god's will,
Then God of my salvation,
But I will never visit the gambling hill
That lay north of Elliston station.

[signed] Your Friend.
from the Williamstown Courier, October 21, 1897



The Needham Block, occupied by Owen Hulett, W. P. Stratton and others
The store was previously owned by Musselman (the name on the building)
but is now (1901) under the ownership of Owen Hulett. Where is it? They didn't say.

Cordova General Store burns in 1928.
1877 Description of Cordova, here.
Near Cordova, where Grant, Pendleton and Harrison come together is an area
known as Crooked Creek. A site dedicated to the families there is here.

"Bradley & Pettit, Folsom, Kentucky, are closing out their entire stock of goods for the purpose of quitting business, and in order to make a quick job of it are offering their entire stock of general merchandise at cost or under cost. The stock comprises one of the best assortments of up-to-date general merchandise to be found anywhere, consisting of dry goods, notions, men's and boys' clothing, hats and caps, furniture, hardware, queensware, groceries, wagons, etc. Also, good saw mill, all complete, in first class running order, for sale very cheap. Bradley & Pettit, Folsom, Kentucky." from the Warsaw Independent, May 6, 1905.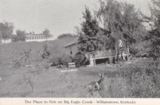 The Place to Fish on Eagle Creek

"C. W. Renaker, the cashier of the Peoples Deposit Bank [of Glencoe] and A. L. Ward, the clever postmaster, while trying to cross Brush Creek Sunday night after the hard rain, got in very deep water, and the horse became frightened and turned the buggy over and broke two wheels to pieces. Fortunately, neither of the men were hurt. They had been to the sanctified meeting near Folsom. It is a question whether they lost their sanctification or not during the accident." from the Warsaw Independent, September 15, 1906

Remember Elliotsville? There's a description here.
Remember Kennedy's Mills? There's a description here.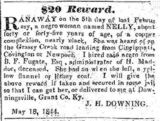 A Runaway Slave, from the Licking Valley Register, August 10, 1844
O'Possum Ridge School. Details.
| | |
| --- | --- |
| | Left, this is a class at the Heekin School in 1933. |
| Right, This is a class at the Heekin School in 1933. | |
| | Left, this is the old Harrison School, circa 1885. |
| Right, this is an early class picture at the Harrison-Heekin School | |
| | Left, this is a teacher's institute, held at Corinth around the turn of the century. These days, we call them "in-service days." Most of these folks likely taught in one-room schools. |

"A new post office has been established in Grant county at the store of Charley Alexander, on the Warsaw Road, near the old Blackburn residence. The new post office has been christened "Hanks" – we presume after the Hon. Richard Hanks, the grocer, of Cincinnati. The new office will receive mail three times a week." From the Williamstown Courier, December22, 1898
"The Ezra post office has been discontinued."
from the Williamstown Courier , April 13, 1905