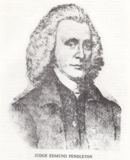 Pendleton County was formed from Campbell and Bracken Counties; it
was created on December 13, 1798. It was Kentucky's 28th county, and
named after Edmond Pendleton. There's a bio of him at Wikipedia.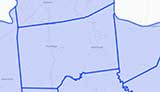 The boundaries of Pendleton County when it was created in 1798.
Pendleton County was the 28th county formed in Kentucky. The law enacting Pendleton County was passed on December 13, 1798 and the county was formed on May 10, 1799 from parts of Bracken and Campbell Counties. Its boundaries are unchanged since April 22, 1882. It has an area of 280.5 square miles, making it the 74th largest of Kentucky's 120 counties.
Discover the highest point in the county.

Chicago's Newberry Library has posted online a complete set of maps of American counties formations. They start with the date of county formation, and trace every little change to the boundaries after that. Pendleton County has had 3 such changes, and you can see the Pendleton maps here (pdf). To see the counties from which the county was formed, you'll have to download the entire Kentucky state pdf. There's also a feature that you can use to import all this data into Google maps. Good stuff!

For a textual history of various Pendleton county Communities, you'll want to go to this site, and read
"The First 200 Years of Pendleton County" by Mildred Bowen Belew

There's A LOT of good old Pendleton County pictures at their Rootsweb site, here.

The R. L. Polk Company updated their Kentucky State Gazetteer and Business Directory in 1883-84, and included these Pendleton communities:
Bachelor's Rest
Boston
Butler
Catawba
De Mossville
Dividing Ridge
Falmouth
Goforth
Knoxville
Morgan
Motier
Mt. Auburn
Peach Grove

Membership Lists from the Masonic Lodges in 1890:
Aspen Grove
Butler
Demossville
Falmouth
Knoxville
Membership Lists from the Masonic Lodges in 1911:

(pdf's)

Butler
Demossville
Falmouth
Peach Grove
For membership rolls of ALL Masonic Lodges in ALL cities in Kentucky,
from 1878 thru 1922, they're at the Hathi Trust Digital Library, by individual year.

Who's who in Pendleton County, in 1840.
An earlier Gazetteer published in Louisville, was George W. Hawes' Kentucky State Gazetteer and Business Directory, for 1859 and 1860. It's pre-Civil War, but only has detail on these two towns:
Aspen Grove
Falmouth
Falmouth was given a couple of pages in the Covington Directory of 1874. You can read those here. (pdf)


This list of Pendleton County deaths from WWII is from the National Archives. There's
a key to what the various abbreviations mean here, and the actual list is here.
The list from World War I is here.

"Cincinnati, Wednesday, Oct. 7.-Maj.Wileman, of the Eighteenth Kentucky regiment, who was wounded in the Battle of Chickamauga, and who lately returned home, was taken from his house, in Pendleton County, Ky., on Monday, by a gang of guerrillas, stripped of his clothing, tied to a tree, and shot. Five of the marauders were caught and brought to this city today." New York Times, October 8, 1863
Wileman's murder evidently didn't sit well with the authorities, who offered this.

Every county in America was supposed to write its history for America's Centennial in 1876.
Some did; some didn't. Pendleton County did. It's here.

The Rev. Joel Shoemaker offers this piece on Pendleton history in 1932

Inquiring minds will ask why the Pendleton County jail is holding two slaves, 16 months after the Emancipation Proclamation of January 1, 1863. Frankfort's Tri-Weekly Commonwealth, April 20, 1864
Underground Railroad activity in Pendleton.
Pendleton slaves attempt to escape, here.
Ohio and Kentucky Governors both get involved over John Fee in this Falmouth slave case. John Fee was a Bracken County abolitionist who went on to found Berea College. His Wikipedia page is here.

In 1838, The Rev. John B. Mahan, of Sardinia, Ohio, an abolitionist, was kidnapped from Ohio and taken to Washington, Ky., for trial for helping Pendleton County slaves escape to freedom. There's a short version at this site, or, you can read the subsequent book published about his trial at Google books, here.

The Boone County Library has a web site detailing known escapes by enslaved persons from Northern Kentucky. The Pendleton-Harrison only list is here.
James Bradley, once an enslaved person in Pendleton County, wrote an account, in 1834, of how he worked to buy himself out of slavery. Read it here.
"Twenty-one slaves in the vicinity of Falmouth, Kentucky, escaped on Sunday, and made toward Canada, on the underground railroad." The National Era, June 22, 1854
"Slaveholders Convention – Emancipation in Kentucky. It has been proposed to us, by several gentlemen who own slaves in Kentucky, that they (the slaveholders) hold a convention on Frankfort to adopt some plan for the Abolition of Slavery, and that we so announce it; and that the Hon. W. H. Luke, of Pendleton County, a Slaveholder, be appointed by the friends of the convention, as one in his part of the state to draw up a proposition for its gradual abolition." Newport (Ky.) News" Reprinted in the New York Times of September 15, 1855.

Silver mining in Pendleton County? That's what it says in this item from 1859.
The Kentucky Legislature passed a no trespassing law specifically for Pendleton County in 1874.
"There is in this county, in Little Kincaid creek, three miles from Falmouth, a rock upon which there is a plain impression of a buffalo's foot. This curiosity has been known to the local community by citizens of the county for more than eighty years." Courier-Journal, June 5, 1875, quoting the Falmouth Independent.
"About a week since, 'Squire Robt. Watson, of Pendleton county, was called upon to go four miles in the country to marry a couple. He arrived and commenced the ceremony, but when about half through, a general fight was indulged in by five brothers of the bride. This occurrence, however, did not stop the proceedings, the couple were pronounce man and wife, and the 'Squire departed." Courier-Journal, August 7, 1874
If you go to Google Books and search for "Kentucky Public Documents Decoursey"(no quotes), you can find a government report with exhaustively detailed depositions given in regard to election fraud in Campbell and Pendleton Counties in 1865. It's good, detailed stuff, especially for the time period. On the other hand, if you download the pdf - and you can, free - note first that it's 781 pages long (it contains more than just Kentucky election fraud).
"Candidates are plentiful in Pendleton County. The Falmouth Independent, of last week, announced no less than four candidates for County Judge; three for County Attorney; fifteen for jailer; seventeen for Assessor; three for County Clerk; one for Surveyor; and three for Sheriff; a total of forty-six persons who are desirous of serving their county in the capacity of county officers. From this can be gathered the moral of hard times: numbers of persons who would not otherwise descend into the cesspool of politics feel themselves driven to seek for various offices."
The Boone County Recorder, January 31, 1878
"Falmouth – The blue ribbons [a temperance group] are still on the rampage, and expect to close their labors here this week, gong to Butler, Demossville and Boston. They claim to have between five hundred and six hundred disciples in this place. You can see big and little, whites and blacks, at every corner, with the inevitable strip of blue pinned to their lapels." From the Daily commonwealth, December 12, 1877
"The force dispatched Wednesday night down the Lexington road, reached Falmouth safely at 3 a. m. yesterday. No rebels were there, and all the bridges between that point and Covington were saved. Additional forces from Gen. Heintzelman's Department were received by Gen. Hobson, and dispatched down the road. The One-Hundred and Sixty-Eighth Ohio (hundred day men) went down to Falmouth at 1 o'clock yesterday afternoon. The bridges of the Kentucky Central Railroad, with the exception of that at Townsend [5.5 miles n, of Paris, near what is now Shawhan], can be easily repaired, and even that can be put in running order in five days. The abutments and piers for a new bridge were nearly completed, and the timber prepared for the superstructure. The company have everything in readiness to complete a new and more permanent structure at Townsend than that destroyed." From the New York Times, June 12, 1864.
"We have at our office, says the Falmouth Independent, some specimens of Pendleton county coal, given us by Mr. P. F. Keith, who says he thinks he has found it in sufficient quantities to insure success in mining." Courier-Journal, September 12, 1871
"Unionism in Kentucky.— Considerable excitement was occasioned at Falmouth, Pendleton county, Ky . lately, by the partially successful attempt of the nest of Secessionists, led on by the Clerk and Deputy-Clerk of the Circuit Court for that county, to raise a Secession flag upon a building in that place. A Cincinnati exchange says that the Union citizens gave the party to understand that if the flag was raised there the building would be destroyed. They then hoisted the flag on the house of a widow, but the offensive banner was speedily pulled down and torn to pieces. This is the second attempt which has been made to hoist a Secession flag in Falmouth, but from the prompt manner in which the thing was crushed, it will be safe to predict that it will be the last." Daily Alta California, June 13, 1861

The Falmouth Outlook is on line here.
You can buy their Forks of the Licking Bicentennial Edition history and picture book of Pendleton
County by calling them at (859) 654-3332, or mailing a check to them at 210 Main St. in Falmouth.
Only $25.45, and that includes postage. Recommended.


"Falmouth, Pendleton County, is one of the old towns, dating from 1790, and claims something like two thousand people. Pendleton is called 'the county which came back,' as some years ago, on account of the worn-out condition of the soil, about a third of the population moved away. Then sweet clover was planted, the bees came and founded a great honey-making colony, dairying developed, and the county and county seat were reinstated on the map." from Samuel Wilson's History of Kentucky.

More detail on how sweet clover saved Pendleton County is here.
"We have the authority of John McDonald, Esq., who lives in the Eastern portion of the county, five miles from Falmouth, for saying that a real, genuine wild-cat was captured on his place one day last week. It was perfectly black, and measured four feet and eight inches from tip of nose to tip of tail. Mr. M. informs me that his tenant, who captured the animal, measured the distance from a fence from which he saw it jump to a tree, and it was fifty steps. A big jump, wasn't it?" Courier-Journal, August 6, 1875,which is quoting the Falmouth Independent
The First Annual Report of the Banking Commissioner of Kentucky listed Statements as of June 04, 1913 for:
The Butler Deposit Bank
The Citizens Bank of Falmouth
The Pendleton Bank [Falmouth]
The Farmers Bank of Morgan
The on-line encyclopedia Wikipedia has articles on
Butler Falmouth Pendleton County

Resources, Attractions, and Opportunities in Pendleton County, c. 1930
Rate cards along the L&N, then the Kentucky Central, including a bunch of Pendleton County stops.


Members of the Free & Accepted Masons (F. & A.M. ) Lodges in Pendleton County, in 1885 are here:
Aspen Grove Butler Demossville Falmouth Knoxville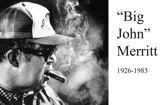 Falmouth's John Merritt is in the College Football Hall of Fame. More about him at his page at Wikipedia.


Luther Martin Kennett (March 15, 1807 – April 12, 1873), born in Falmouth, was a U.S. Representative from Missouri. He too has a Wikipedia page.
Samuel Thomas Hauser (January 10, 1833 – November 10, 1914) was appointed the 7th Governor of the Montana Territory. He was born in Falmouth, and has a Wikipedia page. 

Can you name the fifty-five (55!) town names in Pendleton County that have had US post offices? That list is here.
Robert Rennick wrote this document for the WPA in the late 1930's, explaining how the towns and post offices got their names. Good stuff.
Community of Brass Bell applies to be a post office in 1837.

The Pendleton County High School yearbook has been The Echo, for a long time.
Falmouth High School, on the other hand, changed yearbook names lots of times
| Year | Names |
| --- | --- |
| 1954 | Memoirs |
| 1955 | Falmouth Focus |
| 1953, and 1956 | The Red and White |
| 1958 | The Milestone |
| 1961, and 1962 | Pace Setter |
| 1965 | Vista |
| 1966 | The Orbit |
| 1967, and 1968 | The Retrospect |

On the Falmouth - Covington Road
North of Piner on 16? Grassy Creek?


from Trow's Legal Directory of Lawyers in the United States, 1875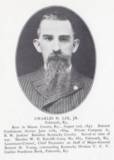 Charles Lee

Two Pendleton County soldiers were awarded the Distinguished Service Cross for their valor in World War I. Click their names to read more about them.
Sergeant James Courtney
Private Henry C. Schwer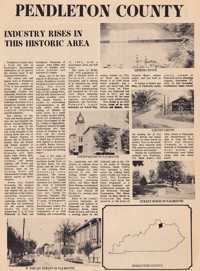 A look at Pendleton County in the year of the Bicentennial, 1976

Additional Links that apply to all of Northern Kentucky Views, and may or may not
be related to Pendleton County, are on the main Links & Miscellany page, here.